My 5 Favourite Business Travel Apps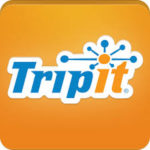 Travel has become increasingly a pain in the rear end; just the other day some friends told me about their recent trip to Hawaii where just about everything went wrong. They thought they had planned everything perfectly, but all it took was two-hours trying to get through security in Seattle to throw a wrench into their well-laid plans. Missed flights ensued and they ended up having to make a detour to Maui before finally arriving a day late at their hotel on the Big Island.
This got me thinking about whether there are any good business travel apps – after all there always seems to be "an app for that" – lo and behold I discovered dozens and dozens of the little beggars!
Here's a quick look at five that caught my eye as worth investigating further.
TripIt® – organizes all your travel plans into one place. This is neat and easy – just forward all the emails confirming the various aspects of your trips to [email protected] and the app creates a master itinerary for each trip for you. You can access the master itinerary on your app or online, so even if you lose your phone, you can still access all the information online. It even syncs your travel plan with your calendar.
The basic app is free, but if you are a serious traveller you might want to invest in TripIt Pro which adds real-time flight alerts, seat tracking, an alternate flight finder and a bunch of other cool stuff. https://m.tripit.com/uhp/mobile
AroundMe – This is a simple, but very handy app. As many of my regular readers know, I like to travel around our wonderful province, often staying at one of the five Accent Inns locations in Victoria, Burnaby, Richmond, Kamloops and Kelowna. As I wander around British Columbia I often need to visit a bank, grocery store, gas station, or find the nearest coffee shop. With this app I can simply tap a category and it will show me all the businesses close to me and guide me to the one I choose. http://www.aroundmeapp.com
CityMaps2Go – Ever wanted to use Google Maps to discover where you are, and how to get to where you want to be, but have no data left, or you're in a location where you'll be roaming and who knows what it will cost? I think it's happened to many of us; with this app however you can access your location without roaming using its map, via GPS, with no Internet connection (you download it in advance!). Locate streets, addresses, attractions, restaurants and let the app help you get there. In addition, the app features photographs from other users and tips from other travellers and experts. ulmon.com
Apple Wallet – If you have an iPhone you already have Wallet, but many people don't use it, or even realize it's there. Basically, it keeps all your coupons, boarding passes, tickets, passes, or even the balance of your coffee card in one place. If you have an iPhone 6 or later it can also hold your credit and debit cards so you can make purchases using Apple Pay. Keeping everything all in one place certainly simplifies things and could mean you no longer need to carry a wallet or purse! https://support.apple.com/en-us/HT204003.
Don't have an iPhone? Check out PassWallet for Android – http://attidomobile.com/portfolio/passwallet/.
GateGuru – for those of you staying at the Accent Inns Richmond location before taking a business flight – and who wouldn't given the location close to Vancouver Airport, free shuttle, and free parking – download this app using the hotel's free and fast WiFi.
This neat app will let you know everything about the airport you are traveling to or through. How useful would it be to know: current weather at the airport, what terminal and gate you're leaving from, the estimated wait time at security, real-time flight status, the best place to eat, a map of the airport, and get discounted car rental with a single tap?
An added fun bonus is that this app can track your travel so you can see how many miles you've flown, how many airports you've travelled through and even compare yourself to other GateGuru users. www.gateguruapp.com
I once had an extensive business trip which involved several dozen flights; I would have loved to have had this app in those days, unfortunately that was pre the Internet!