5 Amazing Things To Do In BC This Spring
I was thinking the other day how great the weather was this year. That led me to consider the five things I'd like to do most close to home, here in British Columbia. My list surprised me and I'm pretty sure I won't get the chance to do all five this year, but I'm determined to do at least one or two, and pick up the rest next year. Of course by then I'll have another five, or more, to add to the list, after all BC is truly one of the most amazing and special places in the world.
So here's my first list of really neat things to do; I'm sure you could come up with an equally exciting list of your own but check these out first.
See a Spirit Bear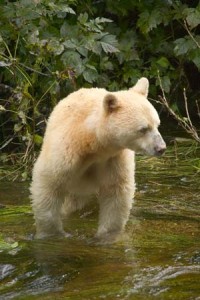 My number one place to visit is the Great Bear Rainforest a vast area of temperate rainforest that stretches 400 km along the central and north coast of the province. My primary reason is to see a Kermode bear, otherwise known as the Spirit Bear. These amazing creatures (Black Bears with white fur, due to a recessive gene) are found only in this forest – nowhere else on the planet. I told you BC was special! It's also probably the best place in the world to see Grizzly bears. This is one remote spot; and the best way to get up close and personal with the bears is from a small boat. Oh yes, bears, eagles, whales, sea otters, sea lions and dolphins are on my must see list for this trip. I'm going to check out Great Bear Tours http://www.greatbeartours.com/great_bear_lodge.htm).
Heli-Hiking the Bugaboos
I recently came across an article on heli-hiking featured in an eMagazine called 'Gear Patrol' and now it's one of things I just have to do as soon as I can afford it!
I've always loved the wilderness but hate camping; heli-hiking could be the answer. Full days on wilderness trails and back to a warm comfortable lodge for dinner! Here's a snippet from Jason's article, "Purist hikers and climbers may call it cheating (I used to be one of them), but reserve judgment until you've hiked for five hours and 5,000 vertical feet in some of the wildest backcountry in the world and can get back to the lodge in ten minutes for a beer by a crackling fire."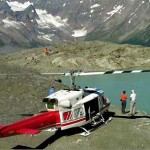 Bugaboo Provincial Park is located in south-eastern B.C., between Golden and Radium Hot Springs, and west of Highway 95. If like me you plan to overnight on your way, at an Accent Inns in either Kamloops or Kelowna, then here's a couple of good places to take a warm-up hike to get you ready for the Bugaboos.
McConnell Lake Provincial Park, with its 30 kilometres of trails just south of Kamloops, just past Stake Lake and in close to Kelowna check out Cedar Mountain Park – Kelowna Crags – there's a 6.5 kilometre hike with fantastic views from the cliff top (2,500 feet). If you're into climbing and bouldering you'll love this place.
Read Jason Heaton's excellent article in full at http://gearpatrol.com/2013/10/24/easy-way-heli-hiking-bugaboos/.
Golf 36-Holes in One Day at Bear Mountain resort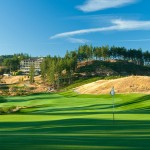 I'm an occasional golfer, and pretty hopeless at it, but I really love to play when I've got the time. So, one of the things I want to do is play 36-holes in one day, something I've never done before. If you're staying at the Accent Inns hotel in Victoria, Bear Mountain Golf resort is just a 20-minute drive and features two stunning championship courses right next door to each other.
The Mountain Course, co-designed by Jack and Steve Niklaus is set in the foothills of Mount Finlayson and while challenging is playable, even for a rank amateur like me. The views of the Victoria, the ocean and lush forests are stunning.
The Valley Course is a little easier and has far wider fairways, fewer bunkers, and larger greens. The course meanders through forest, borders lakes, and traverses creeks. I plan to do the Valley course first and work up to the big boy after lunch. This is a day of golf that even Rory McIlroy would enjoy!
Visit a Canyon and Cross a Suspension Bridge
I love suspension bridges as much as my wife is scared of them. Having said that she always likes to confront her fears, so happily (well willingly anyway) she treks after me. Capilano Suspension Bridge of course is probably the most well known in BC, it stretches 450 feet (137m) across, and 230 feet (70m) above, the Capilano River. The reason it makes my list this year is its new Cliffwalk a labyrinth-like series of narrow cantilevered bridges, stairs and platforms following a granite precipice. That I've got to try.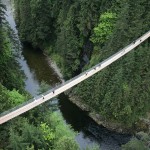 Visit a Canyon and Cross a Suspension Bridge #2
Okay, I'm cheating here by adding two suspension bridges, but I do love days out where I get to walk and do something scary and exciting.
Surfing the web recently I came across Lynn Canyon Park in North Vancouver, and was surprised I've never visited it. Needless to say, it's on my list for this year! The park offers 617 acres of walking and hiking trails and also offers lots of swimming holes for those hot sunny days we're experiencing now, and expecting throughout the summer.
I'm a sucker for old trees and have been known to hug my fair share over the years. The trees in Lynn Canyon Park are between 80 and 100 year's old so worthy of hugging. And of course there's that suspension bridge swaying 50 metres above the canyon – I can see my wife's white knuckles already. http://www.capbridge.com
The amazing things is that Lynn Canyon Park is just a 10-minute drive from the Accent Inns hotel in Burnaby! This means that I can stay for two nights and do this park and Capilano Suspension Bridge Park in one weekend – bonus!
The park is open daily all year. http://lynncanyon.ca/information/
Mike Wicks
Douglas, YAM and Salt Magazines