2013 Varity Club Telethon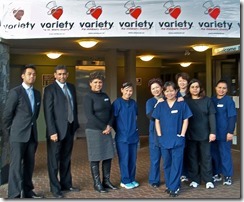 All of us at  Accent Inns strongly believe in the importance of giving back to the community. This was never more apparent than the recent donation made to the Variety Club Telethon by team members from the Accent Inn Vancouver Airport hotel.
Throughout the year of 2012 the Vancouver Airport team held numerous fundraising events to raise money for the very worthwhile organization, Variety Club – The Children's Charity.
There were bake sales, jelly bean guess contests, and BBQ's.  It was amazing and truly touching to see everyone's enthusiasm in making each event a great success.
One of the favorite memories was during our first BBQ when Donna Price, Regional Sales Manager for Sports and Groups, put hot dogs on the grill only to later notice that there were words on the hot dogs as they were individually wrapped in plastic.
Together the team managed to raise $1000.
Zareena Dean and Sheena Brooks had the privilege of presenting the cheque to Variety – The Children's Charity on the Show of Hearts Telethon on February 17th 2013. We are so proud!!