This month, we're REALLY Giving Back!
It's the season of giving, and we're pleased as holiday punch to do our part wherever we can.
Of course we've "ducked" our halls – making everything festive and bright for those of you who will come to stay with us over the holidays. If you haven't seen our ducky trees yet, get ready to fall in love!
Best of all, we're also happily sponsoring Global BC's annual "Month of Giving Back" program.
Ya know, we really give a duck around here. People are important to us, as are our communities. We're always striving to put a smile on folks' faces and make your day different…in a good way. We'll even literally give you a rubber duck if you want one! That's why we're thrilled to be supporting 24 charitable organizations making a difference in BC during Global BC's "Month of Giving Back."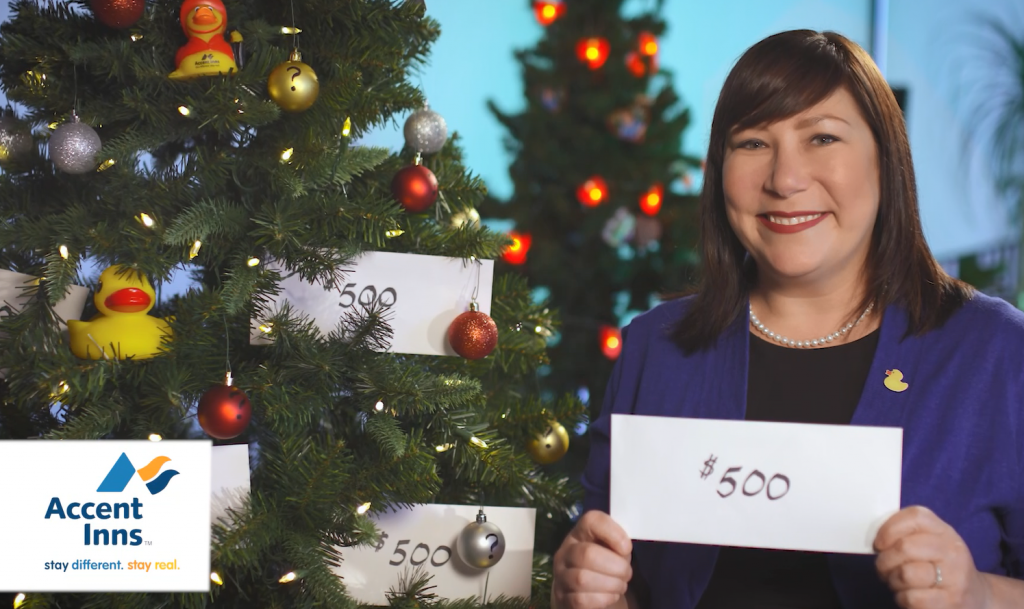 Every day in December, the Global News Morning show will be profiling a different charity through an on-air interview. Audiences will learn more about what the charity does and how it's helping the people and the communities where we live. What could possibly be more important? We love that Global is taking the time to spotlight these organizations doing the important work out there.
The best part? As the title sponsor of the program, Accent Inns is going to donate $500 to each charitable organization highlighted on Global BC's Month of Giving Back! That's $500 to a different organization every day until Christmas Eve. How's that for festive spirit?
We can't think of a better way (other than maybe a personal visit from Santa) to spread the joy and bring smiles to so many faces. When we do our very best to give back and help improve lives, we all feel merry and bright.
Plus, when you book to stay with us, we'll give even more.
For each individual booking made during the month of December, we will give that day's charity-of-choice an additional $5 per booking. The more bookings made, the more we give! Don't forget to tune into Global News Morning every day to find out which charity is receiving that days' donations. Just use promo code GIVING when making your reservation. This offer is valid on stays through to December 31, 2020.
Honestly, who couldn't use $500 right about now? 
We know this time of year is tough on everyone's wallets. We're getting a little swept up in the Giving Spirit, so we figured why stop now!? When you book direct and stay at any Accent Inns during the month of December, you'll be automatically entered to win $500 for you PLUS a $500 donation to the charity of your choice! We'll draw winners first thing in January!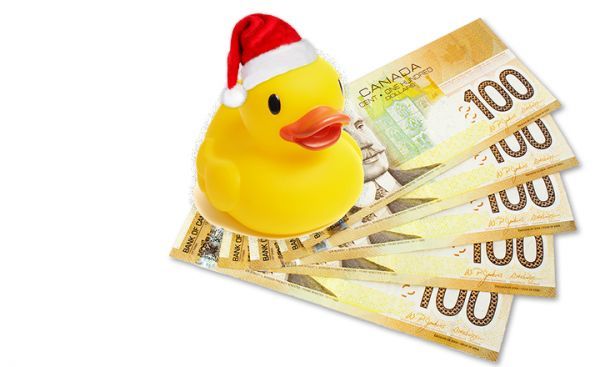 A seasonal getaway to an Accent Inns in December could be just the thing to ease your holiday burdens and make shopping days more restful than stressful. Whether you decide to get into the holiday spirit in our Victoria hotel, our Vancouver Airport hotel, our Burnaby hotel, our Kamloops hotel or our hotel in Kelowna, you're going to feel extra warm and fuzzy knowing that you could be a big winner!
With Accent Inns as your home base, you'll appreciate the comfort and cleanliness of your guestroom to come back to. With cheeks nice and rosy, you'll get comfy and cozy. You'll also have plenty of time to make your list and check it twice, to find out who's been naughty or nice.
So why not give yourself a little holiday cheer, and book your December stay now. Not only is it the most wonderful time of the year, but you'll be helping us give to others in need. This year let's all be joyful and triumphant!
Happy holidays to you and yours, from all of us!