Stay Local BC! The Future is HERE! Update #2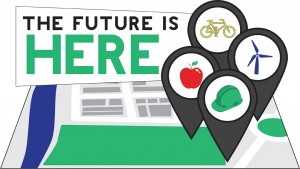 To celebrate Earth Day, Sierra Club BC and Accent Inns are running an exciting contest helping to highlight the localized green energy revolution happening across BC. Hidden within the blog below are some answers to questions for the Future is Here Contest that began Earth Day (April 22) and will end April 30. Every correct entry will enter you for the chance to win a prize pack of:
Every correct multiple choice answer (1 per day) will enter you for the chance to win a prize pack of:
2 night Accent Inn hotel stay
Copy of "Nowhere Else on Earth" by Caitlyn Vernon (Sierra Club BC's very own Campaigns Director) 
2 Denman Island Chocolate, Special Edition, Pull Together, Simply Dark Chocolate Bars.
Sunny Beautiful BC!
Energy meters run backwards in Dawson Creek, T'Sou-ke First Nation, Colwood, and North Vancouver.  As Canadian Solar Cities, they produce more electricity than they use. Canada's installed solar PV capacity has actually increased 100X, from only 12 megawatts(MW) in 2003 to 1200MW by 2013.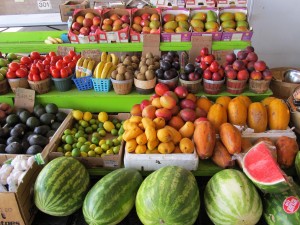 T'Sou-ke First Nations on Vancouver Island has developed a particularly remarkable community resiliency plan. Based on "Seventh Generation" planning, it includes:
75KW of solar panels powering the village
45 homes with solar hot water heaters
energy conservation kits that include insulation, efficient appliances, and education to improve habits
Commercial wasabi-growing greenhouses that fund their own greenhouses which supply the community with fresh veggies all year round!
They are also investing in their people, with 17 members trained in solar installation techniques and conservation workshops, now working with dozens of communities and schools each year.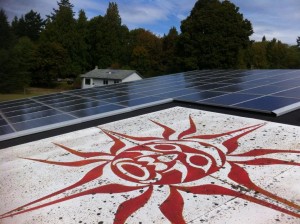 Tsleil-Waututh Nation Sacred Trust Initiative's day-care in North Vancouver is also solar powered.   "We have installed this solar tracker outside of our daycare centre to remind our children daily that there are alternatives to oil…We are walking the talk," said Carleen Thomas.
Inspired? You can check-out other great BC community solar initiatives like:
Not just Solar!
Since 2009 Canada has seen a 93% increase in the generating capacity of alternatives such as run-of-river hydro, biomass plants, solar and wind. Around BC all kinds of initiatives are flourishing – there are no magic bullets, but each municipality has their own strengths and resources to draw from, such as innovative wood waste projects in the interior and car sharing co-ops. A couple more great examples are:
Kanaka Bar First Nation near Kamloops has a run-of the river Hydro project supplying their community's power needs, and selling some back to BC Hydro!
Tidal power projects off Race Rocks and Pender Island are undergoing feasibility studies…
What's already happening in your community? Got an idea to share about how to become more sustainable where you live?
Remember- you gotta answer to enter The Future is Here Contest!
 Get more involved or learn more at Sierraclub.bc.ca
Sierra Club BC is a non-profit environmental organization whose mission is to protect and conserve British Columbia's wilderness, species and ecosystems, within the urgent context of global warming impacts. We advocate the responsible use of B.C.'s natural resources while promoting a modern, equitable economy that sustains our planet in every way.
Accent Inns supports responsible use of BC's resources and encourages readers to educate themselves on all aspects and options for growing our local and global economy in a sustainable fashion.