St Patrick's Day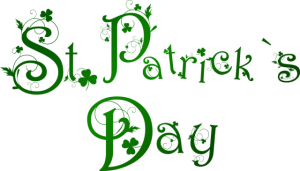 Someone once said, "There are only two kinds of people in the world, The Irish and those who wish they were." On St. Patrick's Day we all feel a kindred spirit to our Irish friends; we wear green, drink green Guinness, Smithwicks, Kilkenny or Harp, and celebrate with stories and songs. The pubs are decked out with shamrocks, serve Irish fare and play Irish tunes.
But, did you know that St. Patrick wasn't even Irish? Yes, I know – what a shocker! He ended up in Ireland because he was captured by Irish pirates, and taken as a slave, somewhere close to what is now the English, Scottish border. He was 16 at the time but somehow escaped and travelled back to his Roman Britain family. In later life he returned to Ireland as a missionary to help convert the Irish to Christianity. He must have done one heck of a good job to end up becoming the patron saint of Ireland!
The whole ridding Ireland of snakes thing? That's a bit of a stretch too as there were no snakes, post-glacial times, in Ireland. It's thought that the 'snakes' might have been a reference to druids

who used some snake symbology. Although some say the legend grew around the fact there were no snakes, so he must have driven them all out.
Whatever the truth behind the stories, he was obviously someone who changed the face of Ireland – and I don't mean to green! He's certainly worthy of celebration and celebrate we do from coast to coast across North America.
A lot of people are very serious about St. Paddy's Day – the White House dyes it's fountain green and Chicago dyes the whole river running through the city! The whole green thing is supposed to have come from the Shamrock, which St. Patrick used to depict the Holy Trinity on his travels.
If you're in Vancouver (stay at either the Vancouver Airport or Burnaby Accent Inns) on Sunday, March 15th and take part in some family-fun festivities, make your way to Howe Street and watch the parade which starts at Howe and Davie and travels along Howe ending at Georgia and Granville.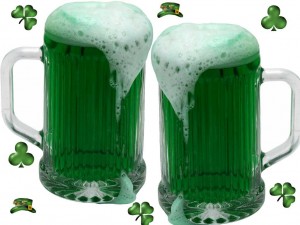 If it's that green beer you are looking for, on March 17th there will be plenty of Irish pubs offering a Celtic party until the wee hours, such as Doolin's, the Blarney Stone, Johnnie Fox's Irish Snug, and the Irish Heather. Of course if you want to visit Ireland to drink their brew in "country" and search for snakes yourself, the Accent Inn Vancouver Airport can offer you some great stopover packages with free shuttle service to the airport.
The Irish have mastered the art of celebrating and having a good time and as the saying goes, "If you're lucky enough to be Irish, then you're lucky enough."
Mike Wicks
Douglas, YAM and Salt Magazines