Save-On-Foods World's Longest Street Hockey game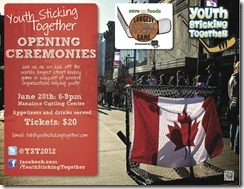 Youth Sticking Together the organizing committee for the Save-On-Foods World's Longest Street Hockey game for charity needs your help!
Would you like to be part of history as it's happening? Then come out to the opening ceremony for the Save on Foods Longest Street Hockey game. Join Youth Sticking Together at the Nanaimo Curling Centre on June 28. Doors open at 6:00 pm, with formal presentations beginning at 6:30. Proceeds from this event, and money donated at the game itself, will go to support three local youth serving agencies: Big Brothers Big Sisters of Central Vancouver Island, Nanaimo Youth Ball Hockey and Crimson Coast Dance Society. There will be light refreshments and a silent auction with some amazing items, such as BC Lions tickets, a signed Roberto Luongo photo and more! Tickets are only $20 and will not be sold at the door.
We want to be able to make this event a success for our youth players, and raise as much money for Big Brothers Big Sisters, Crimson Coast Dance Society and the Nanaimo Ball Hockey League.
You can help them do so!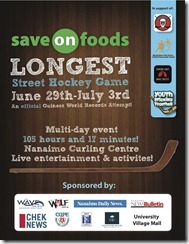 Contact Tali Campbell at [email protected] or (250) 327-9332 to secure your tickets!