Take Me Out To The Ball Game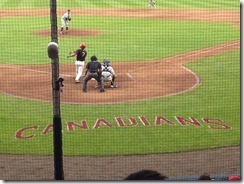 Accent Inns has had the distinct honour of working with the Vancouver Canadians Baseball club for several years now. Now that summer is here (no comments on the weather please) so are the "boys of summer". Sure, sure it's often heard that Canadians are hockey people but that's only true part of the year. It's time to get out of the arena and enjoy some incredible summertime entertainment. The Vancouver Canadians play at the Scotiabank field at Nat Bailey stadium. The stadium has been around since 1951 and hosting some of the best sports entertainment anywhere in the Pacific Northwest. The Vancouver Canadians are a minor league baseball team located in Vancouver, British Columbia.  The C's have previously affiliated with the Oakland Athletics between 2000-2010 but have become the Northwest League affiliate of the Toronto Blue Jays. They are the only Canadian team in the "affiliated" minor leagues.(wikipedia)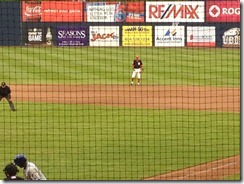 Last week we (Accent Inns) had the opportunity to host a few of our friends at the Vancouver Canadians vs the Tri-City Dust Devils.  It happened to be my father's birthday that day and luckily he and my uncle were able to watch the game that night as well. I remember going to the games as a boy. We lived in Victoria but every summer my Uncle,who lives in Vancouver BC,  would treat me to both the PNE and one or two Canadians games. I still have some souvenirs from those games (83 years later). For me,  having the company I work for sponsor the team and being able to watch a game with both my Father and Uncle certainly made it a special night for me. Of course the Vancouver Canadians did not disappoint.  Not only was the game excellent, they had all sorts of fun entertainment between innings which had the fans cheering, singing and laughing. What an atmosphere. I couldn't stop laughing when the fellows sent out to rake the  infield started doing some sort of hokey pokey, square dance  routine whenever the sound guy played the appropriate music. Has to be seen…lol
You can see by how intensely my father was watching, that we had a big finish. Bottom of the 8th the Canadians go up by 2 so that the score is now 3 to 1. All we have to do is shut down the competition in the top of the 9th and we all go home happy. Tri-City though had other ideas. They ended up having 3 men on base with only one out! There goes the finger nails…
Crack…..smoking hard drive between first and second. we are doomed….or are we? Our Canadians came through like champions and pulled off an incredible double play. We won! So for this writer, watching an awesome game in a very special stadium, where Accent Inns has a connection and sharing it with two very special fella's in my life… I say, you can "take me out to the ball game" anytime. Thanks Vancouver Canadians!

Check out the new "girl of summer". One of Accent Inns own, Duty Manager Anita!
Buy your game tickets now!