National Philanthropy Day 2015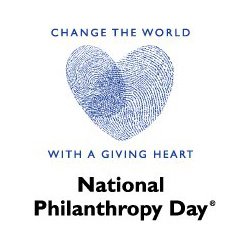 November 15th is National Philanthropy Day (NPD) – a day to celebrate and recognize those who contribute to good causes and make this world a better place. This day has been celebrated worldwide since 1986, but it only became officially designated by the Canadian government on November 5, 2012.
We Canadians are a philanthropic bunch, some 44 per cent of us volunteer our time and almost double that number donate to charities or non-profits. According to StatsCan, in 2013 volunteers gave two billion hours to good causes, that coverts to approximately one-million full-time jobs! And, it's not just time we are generous with, between us in 2013 we donated almost $13 billion, on average donating $531 per head. That's a 14 per cent increase on 2010.
I've always liked Michael Bloomberg's (ex. Mayor of New York) quote, "Every dollar makes a difference. And that's true whether it's Warren Buffet's remarkable $31 billion pledge to the Gates Foundation or my late father's $25 check to the NAACP."
Many companies are also philanthropic, and I certainly like to support those that actively support local causes in the communities in which they operate. This is another reason why I'm always happy to support family-owned businesses as they often take pride in working closely with the community. Accent Inns for instance donates cash, provides in-kind sponsorship, and management time for a wide range of charitable organizations. I asked John Espley, the marketing guy at Accent, who by the way is a judge for the National Philanthropy Day Awards, about his company's philanthropic efforts and was surprised to learn, in 2014, they supported (through cash and in-kind sponsorships) over 300 community groups, charities, and organizations across B.C. And, that includes over 700 room nights donated! When pressed to put a dollar figure on all this support he said it was in excess of $85,000 a year!
I checked them out, and Accent Inns has long-standing philanthropic relationships with many well-known organizations including: BC SPCA; Family support Institute; Adoptive Families Association of BC; The Royal Canadian Legion BC/Yukon Division, Arthritis Association, BC & Yukon; Shriners of BC & Yukon; and Sierra Club BC. All great causes I have to say!

If you're interested in learning more about NPD visit the website of your local chapter of Association of Fundraising Professionals. And, if you'd like to go to a NPD event and award ceremony, here are three taking place around the province.
AFP Vancouver
Tuesday, November 17, 2015
Summit: 8:00am – 5:30pm
Luncheon: 11:00am – 2:00pm
Vancouver Convention Centre
1055 Canada Place, Vancouver, BC
Keynote speaker: Jessica Houssian (Women Moving Millions)
http://www.afpvancouver.org/national-philanthropy-day.aspx
AFN Vancouver Island
The Fairmont Empress Hotel
Wine and Cheese Reception/Award Ceremony
When: Tuesday, November 17, 2015 – 4:30pm – 6:30pm
http://afpvancouverisland.afpnet.org/content.cfm?ContentItemID=120442&navItemNumber=5337
AFN Okanagan Chapter
National Philanthropy Day Luncheon
The Harvest Golf Club
When: Friday, November 13, 2015 – 11:00am – 1:00pm
Keynote Speaker Mike Roberts
http://afpokanagan.afpnet.org/Event/EventDetail.cfm?EventID=157688
Mike Wicks
Blue Beetle Creative