Motorcycle Friendly Hotel Manager Races in the 46th Baja 1000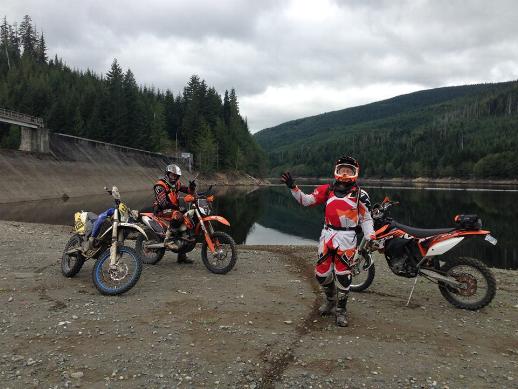 For me, this crazy dream all started in 2008 when a good friend of mine and owner of Action Motorcycles, invited me on a dirt bike trip to a little town on the Sea of Cortes, San Felipe Baja Mexico.  This sounded like a fun adventure.  I had no idea that 6 trips later over 5 years, would have us lined up to race the toughest non-stop off-road race in the world. A Victoria BC Hotel Manager racing the 46th Baja 1000, who would have imagined that?
In the summer of 2012, 5 of us sat around a table and threw out the idea of racing this major event.  For those that don't know, it is a race that is run each November through Baja Mexico roughly a 1000 miles in length.  It is a non-stop go as fast as you can type race with motorcycles, trucks, buggies, etc. participating.  In 2013, there were 280 vehicle entries and only 45% of them finished.   Marc and Nick had raced it before on teams but for 2013 they both wanted to ride the event solo.  David and I wanted to put together a relay team of 5 or 6 guys to share the riding.  We came away from that meeting with all sorts of ideas but the basic plan was in place.  A team with 3 bikes in the race (2 solo and one relay team).  It is a challenge to plan and get one bike to the finish let alone 3 so this was going to be interesting to say the least!
For the next 14 months, we met monthly planning, organizing, securing accommodation, motorcycles, sponsors and more. Thanks to Accent Inns for coming on board as one of our great sponsors. By July 2013 we had 6 riders committed to the relay team.  Basically how this works is you have one bike that does the entire race but you can switch riders off that bike out at any point on the race course, as many times as you like.  In early September, we secured a brand new KTM 500 and began preparing the bike for this endurance event.  It would need to be able to withstand roughly 30 hours of riding nonstop other than for fuel, new tires and air filters when needed.  It would also need to put up with some of the most brutal conditions you can imagine.  Sand, rocks, silt beds…  You name it, Baja has it.  On top of this, over half the event would be run at night.
Just weeks before the race and it all starts to come together.  The organizers have released the map of the race course.  Its 883 miles long this year spanning both sides of the Baja Peninsula, starting and ending in Ensenada Mexico, 90 miles south of San Diego California.  We would have 34 hours to finish it.
Our team is set, plans in place.  We would be taking a total of 5 vehicles, 3 enclosed trailers with 16 bikes, a quad and 2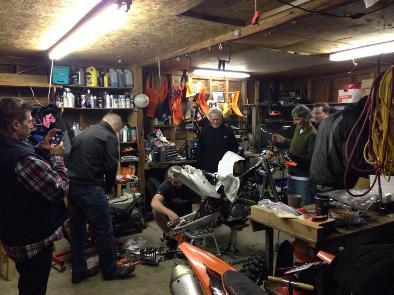 motorhomes in order to get all 22 people to where they needed to be.  Marc and myself would head down a week early to pre ride the entire course so we would know what the course looked like and how to divide it up into sections for the relay bike.  We had a house rented on each side of the Baja peninsula to accommodate us as well as 4 hotel rooms booked in the southern portion of the course.  It's hard to describe if you haven't been to Baja but it takes a long time to get anywhere and it's a very big place so our group would be spread out over these 3 areas for the majority of the time.  A week and a half or so before the race, the rest of the members would arrive and each racer would try and pre ride his section of the race course 2 or 3 times before race day.
The race is a major event in its own right but pre running the course in the days before is where the adventure can really happen….  And it did for our group of guys….
Next installment of the Racing the 46th Baja 1000 comes out Thursday January 30th, 2014
Chris Knight is the General Manager of the Accent Inn Victoria BC Hotel.
An avid motorcycle rider/racer and one of the creators of Accent Inns motorcycle friendly hotel program.