Moosemeat & Marmalade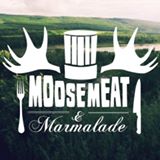 Recently I had the awesome pleasure of being invited to the Canadian launch party for APTN's newest cooking show, Moosemeat & Marmalade, here in Victoria BC.  Previewing the first 2 episodes I came to the conclusion that this is far more than just a cooking show. Yes there was indeed some fabulous meals prepared by the London Chef Dan Hayes and bush cook Art Napolean  but they also shared stories and knowledge about their culture, history and the landscapes they were in. To complete the entrée each episode is spiced with the perfect amount of humor.
Why was I there? Accent Inns was one of the sponsors, providing accommodation for cast and crew when in B.C.  It was a perfect fit for us, supporting local talent that through many of the shows highlights BC culture, scenery and fun way of life. Meeting Dan and Art at the preview event was definitely a great way to start my year. They are exactly as they appear on the screen. Charming (both polished and unpolished…lol), funny and sincere. These fellows are the real deal.
Dan's English accent, sharp clothing and wit had the audience ready to buy anything he said. He's just that convincing. Art on the other hand is a big bold kinda guy. He's definitely a great representative for Aboriginal culture. He can make fun when appropriate but grab your attention when he has a serious message to get across. You want to listen to him.  These guys are the new Canadian dynamic duo. Oh and the food they prepare, I swear I could smell the awesome aroma's coming from the screen. Seriously, I was ready to run home and say to my wife where can we buy pheasant and beaver (I'm not brave enough to hunt them for real…lol).
I encourage everyone to check out Moosemeat and Marmalade on APTN. This is entertainment Canadian style.
John Espley, Director of Marketing & Communications
Accent Inns