Midnight Sun Golf Tournament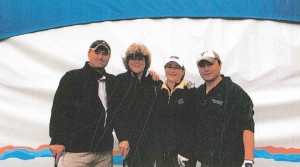 Ok, so teeing off at 6:30 pm seems kinda late for most serious golfers, but if you are going to play in Air North's "Midnight Sun" Golf Tournament, then your shot-gun start time is 6:30pm and don't be late!
A few years ago,  my colleague Donna Price and myself were invited by Air North to play in their Midnight Sun Golf Tournament and represent our company Accent Inns.- We jumped at the opportunity, and  we both agreed "it's a once in a lifetime experience to be coming off the golf course at 1:30am when it's still light out!"  Usually held around summer solstice June 21st,  when dusk is sometime after 11 pm,  you can still see your score card (unfortunately).
They get a full turn out every year at Mountainview Golf Course,  just outside of Whitehorse where Jeff Wiggins (originally from Saskatchewan) is the CPGA Head Pro.  Jeff kindly warned us not to go too far into the bush looking for a ball because late in the evening is when the critters come out and some are friendly and some not The rules are fairly relaxed anyway with lots of the local beer (Chilkoot lager, Lead dog and Yukon gold) being consumed.   The party starts when everyone is off the course around 1:30am with prizes, a sumptuous buffet and … well yes….more beer.  We called for a taxi at 3:00am to go back into Whitehorse to our hotel and it was still light out. It felt strange going to bed when it was light out but I guess you get used to it when you live in the land of the Midnight Sun…as Robert Service said in one of his poems "there are strange things done in the midnight sun".
Helen Wright Regional Sales Manager Accent Inns Burnaby