Merritt Named Head Coach of HarbourCats

Accent Inns has been proud to support the Victoria Harbourcats baseball club for 2 years now and it was fun to be at the announcement of the new coach for the 2015 season, Graig Merritt. We wish Graig and the team all the best for next year!
John Espley, Director of Marketing, Accent Inns
August 14, 2014
VICTORIA, B.C. – The Victoria HarbourCats program is designed to prepare college players for professional baseball, and new Head Coach Graig Merritt is perfectly suited to do just that while focusing on developing players in a winning culture.
The Victoria HarbourCats are pleased to introduce Merritt, 36, as the new Head Coach of the West Coast League organization. Merritt takes the role previously held by Bob Miller (2014) and the Co-Head Coach arrangement with Miller and Dennis Rogers in 2013, the inaugural season. The HarbourCats were 22-32 in the first season, and finished three games better at 25-29 this past season.
"Graig is a fiery guy who has a long track record of succeeding, and we are excited to support him as he builds his coaching staff, works on recruiting players for the 2015 season, and then develops the group into a cohesive, winning team," said HarbourCats President John McLean.
"Graig has a very high baseball intelligence, is a strong communicator both with players and in the community, and will connect with the players in a way that will help them believe in their abilities."
Merritt is a Canadian, from Maple Ridge, B.C., and a graduate of Terry Fox Secondary School. He played collegiately at College of Southern Idaho and then transferred to Chico State where he was the starting catcher for the NCAA Division 2 championship team in 1999, playing for Head Coach Lindsay Meggs, who is now Head Coach at the University of Washington. Merritt was twice drafted by the Los Angeles Dodgers – 67th round in 1996, and 44th round in 1997. He signed with the Tampa Bay Rays in 2001 and got as high as AA before being released in 2006. Along the way, he caught current MLB stars James Shields and Jason Hammel, among others.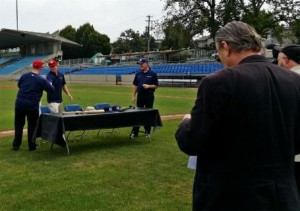 Merritt has won two Canada Cup gold medals, been a member of the national junior team, won a Baseball Canada Senior Championship, and been part of two provincial championships at the senior level.  Merritt was in spring training with the Rays MLB club in 2003 and 2004, and rose through the ranks because of his ability to handle a pitching staff and run a game defensively. Merritt has been an area scout for the Tampa Bay Rays since 2008 and is former owner and operator of the West Coast Baseball Academy.
"I have known Graig since 2006 and his understanding of the game and how it needs to be played is impressive – he is either described as the best teammate or coach a player has ever had, or the guy you hated to compete against," said Jim Swanson, General Manager of the HarbourCats. "He will teach the game, with passion, and his game management skills will help us win games. Graig has contacts throughout the baseball world, and especially in college baseball, and we are confident he will put in place a quality coaching staff that will teach and lead players with their development."
"This is the best market and city in the West Coast League, and this league is maybe only second to the Cape Cod League for summer opportunities for elite collegiate players," said Merritt. "The ownership and management are second to none at this level. In speaking with John and Jim, the HarbourCats have very high goals and that`s perfect because I have high expectations as well, for the fans here and for how we develop players into potential professionals. I want to see players get better, and I want to see players succeed. I think my contacts and coaching style will mesh well with what we want to accomplish here. I am excited to begin player recruitment and to start work in assembling a first-class coaching staff for the 2015 season."
Merritt`s first tasks are to hire a top-end pitching coach, and to work on player commitments for 2015 – including reaching out to schools that provided quality players the past two years, and working with his own networks to secure the best talent.
"I know how competitive the West Coast League is, and I`m excited about the challenge ahead in looking to bring playoff baseball to Victoria," said Merritt.
GRAIG MERRITT, bio
Age: 36 (July 2, 1978)
Hometown: Maple Ridge, BC
Professional position: Catcher
Height: 6-1; Weight: 205
Drafted: Twice, by Los Angeles Dodgers, 67th round in 1996 and 44th round in 1997
Signed: Free agent contract, $1,000 signing bonus, by Tampa Bay Devil Rays in 2001
Levels attained: A and AA, 2001 through 2005, including stops with the Hudson Valley Renegades, Charleston RiverDogs, Bakersfield Blaze, Orlando Rays and Montgomery Biscuits
Notable: A .194 batting average in five seasons over 262 games, hit 21 doubles, three home runs and nine stolen bases… Threw out 39% of would-be base-stealers, including 45% in his final year of AA… In the minor leagues, played with MLB players such as Delmon Young, Jason Hammel, Jeff Niemann, James Shields, Jorge Cantu, Matt Diaz, Joey Gathright, Jonny Gomes, BJ Upton, Chad Gaudin, Rocco Baldelli, Josh Hamilton and John Rocker.
TICKET RENEWALS
HarbourCats fans can purchase 2015 season tickets and 10-packs now at 2014 prices. Ticket prices will be going up nominally for 2015, and those new prices will be announced when the West Coast League schedule is revealed in late October or early November.
For more information – Jim Swanson, GM, 778-265-0327