Local Beaches and Sunscreen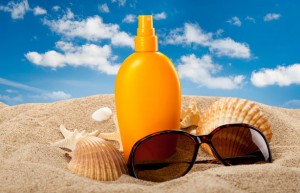 Here in BC we're experiencing unbelievably good weather – the sun keeps shining and the record high temperatures continue to set record highs.
With this much sun it's tough to avoid getting sunburn and that's the pits! I'm notoriously bad at keeping to a good sunscreen regimen, primarily because I tend to sit in the shade most of the time. But, you know what? I still get burnt if I'm not careful; it's surprising how those rays can find their way through the leaves on a tree, or attack that one exposed spot. So, I thought I'd remind myself of what I should be doing before heading down to one of our beautiful BC beaches.
I'm going to use a broad spectrum sunscreens with a SPF value of 15 or higher – honest!
I'll reapply it at least every 2 hours, and more often if I sweat too much, or take a dive into the cool refreshing ocean or lake.
I'm also going to take heed of that old saying, "Only mad dogs and Englishman go out in the midday sun" – hold on there, I'm an Englishman so does that mean I can, or I can't?
One thing I learned from trips to Mexico (not this year, it's probably hotter here in BC) and that's to wear a long-sleeved t-shirt and a broad brim hat. I know they also recommend long pants, but hey, enough's enough!
I can never remember the rules for applying sunscreen and who can read that tiny writing on the bottle? So here's the low down:
Apply enough so you can see it – if you can't see it, it's not enough – simple!
Remember to cover all uncovered skin, especially your lips, nose, ears, neck, hands, and feet. Ankles – ever had sunburned ankles? Ouch, not nice. Repeat every two hours.
Apply it before you go out into the sun not after – duh!
For those follicly challenged among us, remember to slaver your head, or wear a hat and sweat like the rest of us.
Okay, are you ready for the beach? If you're staying at an Accent Inns hotel then here are some local sunny day suggestions.
Victoria
This beach in Metchosin is well known to locals. When the tide goes out, the sand goes on forever and when the tide comes back in over the hot sand the water is warm, in spite of it being the Pacific!
This is a very popular beach (in Oak bay) for sun lovers and families looking for soft sand, views of Mount Baker and volleyball for the more active.
Elk/Beaver Lake Provincial Park
If you prefer swimming in a lake then head out of your Accent Inns hotel turn right and head straight out on the Pat Bay Highway and in less than nine kilometres you'll find this family oriented lakeside beach on your left.
Vancouver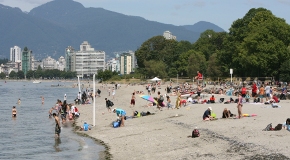 Kitsilano Beach (aka Kits Beach)
This is a waterfront park and a very popular sunny day destination. It has a sandy beach and a heated saltwater pool.
This great spot is on the south shore of English Bay. It's famous for its 'endless' sandy beach and phenomenal mountain and city views.
Kelowna
There are nine beaches along Kelowna's waterfront most on Okanagan Lake. You'll want to check them all out I'm sure, but the two closest to town and only a few minutes from your Accent Inns hotel, are: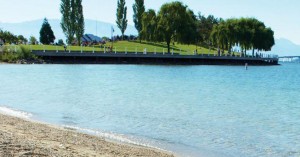 Hot Sands Beach – City Park
This is in the centre of town – it's a happening place. Long sandy beaches, volleyball an recently upgraded waterpark, skatepark, and washroom and change room facilities. There's even live music during the summer.
Tugboat Bay – Waterfront Park
This sandy beach has great views of Lake Okanagan. At the north end of the beach are the Rotary Marshes great for wildlife watching. With landscaped gardens and a boardwalk to City Park this is the perfect spot for a sunny summer's day.
Kamloops
Kamloops boasts over one hundred lakes and rivers within a short drive of downtown, so you'll always find somewhere to cool off on those hot spring and summer days.
This beach is on the South Thompson River and only five minutes by car from your Accent Inns hotel room. There is a walk along River's Trail a children's playground, a waterpark, and swimming areas are clearly marked. In July and August there is live music every evening.
This is a recreational park, with a large sandy beach. It's on the Thompson River on the North Shore. During the summer when the Thompson River is low a sand bar is exposed and offers sun worshippers and swimmers a huge sandy beach. If you're feeling active then you can launch a kayak here, play volleyball, or wander the shoreline.
Happy swimming, and don't forget that sunscreen, unless you want to be called a 'mad dog'!
Mike Wicks
Douglas, YAM and Salt Magazines