6 Things to do with your Daughter in Vancouver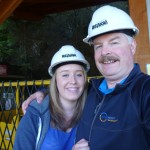 This past Father's Day weekend my daughter and I travelled to Vancouver to hang out together and play tourist. We chose the Accent Inn Burnaby as our home base which worked really well for all the places we had planned to visit. We arrived later on the Friday night and took advantage of the Ricky's country restaurant offering takeout. We just hung out together in the room, eating dinner will watching a movie on TV.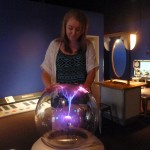 Knowing the traffic and parking in downtown Vancouver can be scary at times, especially if you're not from Vancouver, we jumped on the skytrain and made Science World our 1st stop. Although she's a teenager now, my daughter still enjoyed the presentations and most especially all the fun activities and games that science world offers. We had an extra special treat as it was also Dragon Boat Festival. We got to watch all the colourful teams racing, visited all the special booths set up and enjoyed the festival atmosphere down at False Creek. Our next mode of transportation was the harbour ferries. A great way to get from science world to Granville Island. Granville Island is just a fun place to be. So many unique and eclectic stores and food to die for. Blackberry and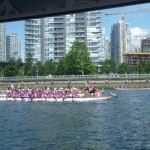 blackcurrant iced tea along with a chocolate éclair. Does it get any better! It was funny to watch an old lady give us strange looks as my daughter and I played with puppets outside one store. Perhaps she thought we were both too old but who cares, we were having fun. We ended this day bowling at Grandview lanes. We don't have much in the way of bowling in Victoria so we were thrilled we could access the bowling alley from the skytrain. They have both 10 and 5 pin. We were having so much fun we played 3 games.
The next day we drove a short distance on Highway 1 over to Grouse mountain. Boy have they got a lot to do and see on top of the mountain. We started by checking out the grizzly bears, Grinder and Coola. These are orphaned bears now kept in captivity and boy do they like to give the tourists a show. Exhilaration came next as we donned harnesses for their great zip line adventure. You end up doing 5 different runs, getting higher as you go. Both the fun of riding the zip line and the views made this an incredible adventure. Even though we were at the top of the mountain we went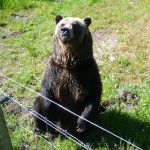 higher and higher as we took advantage of their eye of the wind observation point. This is located up on the giant windmill at the top of the mountain. Trust me, there is no greater view than from this observation point. We could see all the way back to Victoria. After some good barbecue for lunch we sat down to a hilarious lumberjack show. This was a full day if there ever was one.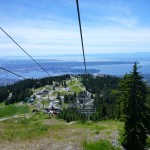 Unbelievably we still had some energy after leaving Grouse mountain we headed over to Metropolis at Metrotown for a little shopping and took in the new Jurassic world movie. Yes dad had to go into some "girly stores" but my daughter also let me check out some of the electronics. The movie was a perfect way to finish our day.
Our last day saw us back on highway 1 travelling the Sea to sky highway to the Brittania Mine Museum. They really have done a great job here. Not only do you learn so much about the history of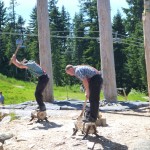 the mine and area but also its connection to Vancouver and the rest of the world. I believe they said at one time the mine provided 17% of the world's copper. We got to travel inside a mine tunnel, had a demonstration of the drills and even a mucking machine. There is a gold panning station if you're feeling lucky.
To complete the trip we took the ferry from Horseshoe Bay back to Nanaimo. It's great that you can access Vancouver Island from Vancouver either through Horseshoe Bay or Tsawwassen to the south. So if you live outside the lower mainland think of planning your next father daughter (or son) getaway to the big city. A fun time can definitely be had by all.
John Espley, Accent Inns Director of Marketing & Communications