Kindness, Empathy Wins Hotel Clerk Local Hospitality Award
For immediate release:
August 22, 2013
Victoria BC, August 22, 2013 – Committee members from the Victoria Hospitality Awards converged on the Accent Inn Victoria BC hotel and surprised long time front desk clerk, Linda Dziadyk, with the news that she was the monthly winner of the Victoria Hospitality Award. Gathering on the deck of the hotel, a "formal" awards ceremony was held. Anna Scolnick, committee chair, stood next to Linda and read out the background of the awards, the nomination and award process and the actual nomination letter submitted by Mandy Farmer, President  & CEO of Accent Inns. Each committee member then took a turn congratulating Linda personally and presenting her with a gift donated by committee members and hospitality businesses in Victoria.
The nomination that won Linda the award, written by Ms. Farmer, talked about Linda's way of providing over the top service such as offering a guest her own lunch on an evening after the restaurant was closed. "She is one of those big hearted people who is constantly thinking of others, anticipating their needs, whether it be a guest or co-worker". Mandy goes on to say how Linda's name comes up consistently in comment cards and online reviews. The final item that was considered by the committee was the report of Linda's efforts during the night of a fire in the attached restaurant of the hotel. "Her efforts to find accommodations, provide emergency toiletries and showing her typical empathy, helped calm many a frayed nerve. I am so proud of every one  of our team members that worked through that horrible night, taking such good care of our guests, making sure none were injured and that all had a place to go. I wish they could all get an award for just that night alone, they certainly deserve it. This nomination is a reflection of more than just one night, it acknowledges Linda's ever-present efforts and caring."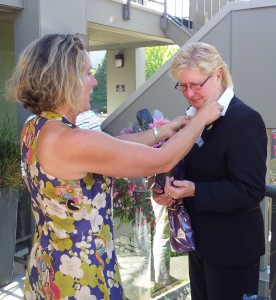 The Ceremony ended with Ms. Scolnick presenting Linda with a framed certificate, Victoria city councillor  Shellie Gudgeon pinning an engraved medal on her and Mandy Farmer personally thanking Linda for her years of incredible service to Accent Inn guests. General Manger of the hotel, Chris Knight, stood to Linda's side the whole time smiling and expressing pride in his team member.  Linda herself blushed for the entire event, continually asking "are you sure this is for me?"
more photos – http://www.flickr.com/photos/accentinns
About Accent Inns
Accent Inns likes to describe themselves as Not your typical, stuffy hotel chain. Yes, they have modern, clean rooms, but they will also tell you where to go (in a good way). They will give you the down low on where the locals hang – the hot spots for shopping, dining and hitting the town. Oh yeah, they also like to mention that they are a pint-sized, boastfully BC hotel chain with five locations; Victoria, Burnaby, Vancouver Airport (Richmond), Kelowna & Kamloops and each of them is a 2013 winner of the TripAdvisor "Certificate of Excellence." Stay local. Stay real.
About the Victoria Hospitality Awards
Since 1994, the Victoria Hospitality Award Program (VHAP) has encouraged outstanding hospitality by recognizing individuals, companies and associations from the Greater Victoria area that go out of their way to make visitors, and locals, feel like there's no better place to visit or live.
Outstanding hospitality is best described as a random act of kindness that goes above & beyond the expected to meet the needs of an individual.
Visitors and local Victorians can nominate someone for exceptional service and warm hospitality.
Contact person: John Espley, Business Development Manager, Accent Inns
Telephone number: 250-360-1511     Mobile: 250-213-9605
Email address: [email protected]
Website address: www.accentinns.com