The Key to Understanding Dogs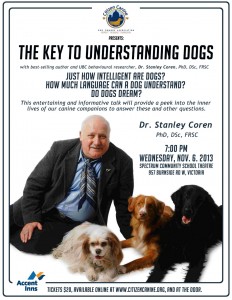 Understanding Dogs. I once had a dog owner tell me that she had taught her dog over 100 words and that the dog fully understand the meaning of each word.  A little later when I asked her why she didn't let her dog run off-leash in a dog park, she told me because he wouldn't come when he was called.  It seemed strange to me that not one of those 100 words was the word "Come!"
But it did get me to wondering just what does go on in our dog's heads? Do they understand our words or just the emotions they sense accompanying the words.  Is it as the cartoon says – all they hear is Blah Blah Blah Blah Treat  or Blah Blah Blah Blah Walk?
I suspect there is more to the dog brain than that but I don't know for sure.  That is why I am planning to attend the talk being given by Dr Stanley Coren in Victoria on November 6.  The title of his presentation is "The key to Understanding Dogs" and Dr Coren plans to address such topics as: Just how intelligent are dogs?  Do dogs dream?  And the one that I am most interested in – How much language does a dog understand?
Dr Coren , Professor Emeritus in the Department of Psychology at the University of British Columbia, is well capable of addressing these topics as he has been studying dog behavior
for years.  Although best known to the public for his books on dogs, he is also an award winning behavioral researcher, a Fellow of the Royal Society of Canada, and was named as one of the 2000 outstanding scientists of the Twentieth Century.
His books on dog behaviour and human-canine interactions have been international bestsellers and have received awards from groups like the Animal Behaviour Society.  He also received the prestigious Maxwell Medal of Excellence from The Dog Writers Association of America.
Coren is popular with the media and has been featured on numerous television programs including Oprah, Larry King, and many more. He was the host of the nationally broadcast television show Good Dog! in Canada, and more recently he can be heard broadcasting a radio column on CBC or seen regularly on Pet Central on the Pet Network.
As a pet friendly hotel chain, Accent Inns is proud to be a sponsor of Dr Coren's talk at the Spectrum Community School Theatre at 957 Burnside Road at 7:00 on November 6.  Tickets are available at the door for $20.00 but I suggest you purchase them online in advance as this is going to be a very popular event.
This event is brought to you by Citizen Canine,   a non-profit network of people and organizations working together to promote responsible dog ownership and support dog-owners in Greater Victoria.
Travelling with your Dog? Every Accent Inn is proud to be pet friendly. gives us a call or check our website to learn more.