It's no joke! Newest Bin 4 Burger Lounge opens at Accent Inns on April 1, 2015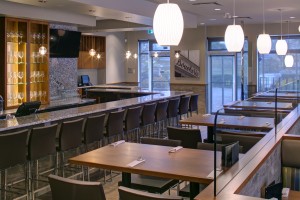 For Immediate release
March 25, 2015, Victoria, BC – Bin 4 Burger Lounge has set April 1, 2015 as the opening date for their new location at Accent Inns in Saanich, BC.
Since last year, Bin 4 Burger Lounge owners Dan and Sarah Blackmore and Chef Michael Ringland have worked closely with Accent Inns president and CEO Mandy Farmer, finding common ground in their approach to business and love of good food while developing the new space. Farmer and the Blackmores share a common mindset when it comes to customer experience. The design of the new Bin 4 Burger Lounge took into consideration the needs of visitors, travelling for business or leisure. Extra power outlets are available at the seats in the lounge, which seats up to 30 guests. The bar is larger than the other two Bin 4 locations, providing individual seating for 16 guests, and both the restaurant and outdoor patio can accommodate larger groups of up to 20 guests.
"We have worked diligently with Farmer Construction and Accent Inns for the past several months, bringing our vision for a restaurant, lounge space, and outdoor patio that serves the needs of hotel guests and locals to reality," says Sarah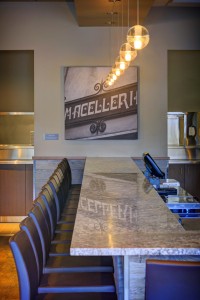 Blackmore, co-owner of Bin 4 Burger Lounge. "Our goal will be to make Bin 4 Burger Lounge yet another reason to stay with Accent Inns, while establishing a new dining location for the surrounding neighbourhood. For those wondering, yes, the 9 p.m., 50% off special will be offered here."
The philosophy behind Bin 4 Burger Lounge is simple: provide quality food and service in a great atmosphere at a great value. The menu consists of locally sourced foods whenever possible; hormone and antibiotic free meats; house made recipes made from scratch daily; and a focus on catering to the dietary and lifestyle needs of their guests. In addition, the Blackmores work to support local suppliers, which is something that strongly appealed to Farmer.
"I'm excited to partner with Bin 4 Burger Lounge, and not only because they will be a great addition to our Victoria location and the surrounding neighbourhood," says Farmer. "I'm honestly thrilled that my favourite burger joint will be steps away from our head office and I can't wait to share with our guests this amazing locally owned dining experience."
Dan Blackmore brings more than 25 years of experience in the restaurant business having previously owned Sauce Restaurant & Lounge, and managed other well-known establishments in Victoria, before opening Bin 4 Burger Lounge in on Yates Street in November 2011. Sarah Blackmore joined Dan, focusing on the overall concept for the restaurant space using her background in hospitality and real estate. Executive Chef Michael Ringland began working with Bin 4 when the first location opened. A graduate of the Culinary Arts Program at Vancouver Island University, Ringland had previously worked under Chef Peter Zambri, headed the kitchen at the Sidney Pier Hotel, and was personal chef to Russ Courtnall.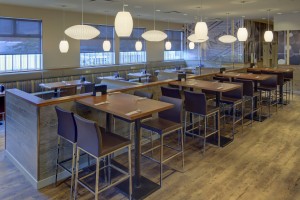 This is the third location for Bin 4 Burger Lounge, who opened their second location in the West Shore in March 2013. The new location will be open daily from 11 a.m., closing at 10 p.m. on Sundays, 11 p.m. Monday through Thursday, and midnight on Friday and Saturday. Guests of the hotel will be able to enjoy complimentary continental breakfast in the hotel's new breakfast room, which is open from 7 to 10 a.m.
The new building also includes a new fitness area and new office space for Accent Inns head office, which will move from its current location on Douglas Street later this year. For more information, visit www.accentinns.com or www.bin4burgerlounge.com.
About Accent Inns
Accent Inns likes to describe themselves as not your typical, stuffy hotel chain. Yes, they have modern, clean rooms, but they will also tell you where to go (in a good way). They will give you the down low on where the locals hang – the hot spots for shopping, dining and hitting the town. Oh yeah, they also like to mention that they are also a pint-sized, boastfully BC hotel chain with five locations; Victoria, Burnaby, Vancouver Airport (Richmond), Kelowna & Kamloops and each of them is a 2013 winner of the TripAdvisor "Certificate of Excellence." Stay local. Stay real.
Media Contacts:
Deirdre Campbell, Tartan Group: 250-592-3838, 250-882-9199 (cell)  [email protected]
John Espley, Accent Inns: 250-360-1511, 250-213-9605 (cell) or [email protected]