Infamous: Second Son vs TitanFall. Why Sony Needs To Press The Gas Pedal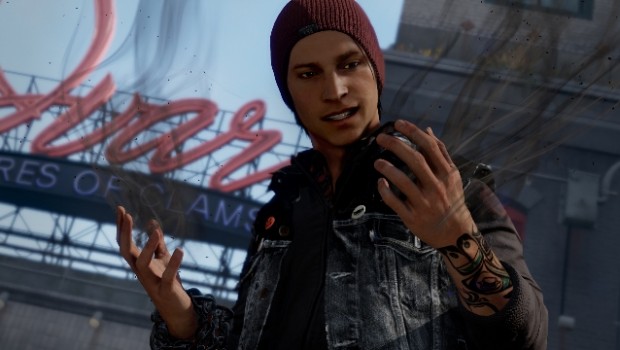 So far Sony has to be overjoyed about the response to their new Playstation 4 system both in terms of sales and reviews. The system is poised to take an even greater step in the next few weeks as it launches in Japan which has traditionally been a successful market for the Japanese company and is rife with eager gamers and technology fans.
Like any new system, there is always a shortage of new and exclusive titles for a system at launch largely due to the production time needed to create a new game which is hampered by developers having to work with specs, in progress versions of systems, and other logistical issues.
Sony is counting on Infamous: Second Son and The Order 1886 to go a long way towards showcasing the power of their new system and driving up sales of the console as both games are touted as showcases for the new system and are eagerly anticipated by gamers.
I have played Infamous: Second Son, and was really impressed with the speed, graphics, and particle effects of the game, and look forward to seeing how the storyline unfolds as well as how well the entire game unfolds. To me, the game seems to be as safe a bet as there can be for the new system as I would expect most PS4 owners to be curious about the game and some early positive reviews combined with a likely ad blitz by Sony should push up consumer interest.
The Order 1886 may have a bit more of a challenge due to the fact that it is not a sequel or continuation of a previously established line. Sony will have to make sure that consumers know about the title, which I am sure they will, but also show off the reasons that make the game stand out beyond enhanced graphics and action.
The dark and mature tone of the game will appeal to older gamers, but the action should appeal well to gamers of all ages and types.
With TitanFall coming for the PC and Xbox systems, Sony needs not only to have both of the games launch successfully, but continue to develop exclusives that will allow them to maintain the early edge they have over the Xbox One in units sold. A bad launch for TitanFall could spell a disaster for EA and can deal a very early blow to the Xbox One as Microsoft paid a ton of money to ensure the game would be a Microsoft exclusive and many fans have cited it as the reason they will buy or have purchased an Xbox One as they are not aware that the game will also be offered on PC.
The console war for the next generation is a marathon, not a sprint, and I expect that when we get to E3 in June, both sides will eagerly be offering up tons of new titles to look forward to as the 2013 E3 was where both sides made their biggest reveals and sales pitches to the assembled media.
Sony needs to not take their foot off the gas and if anything, press it down even harder to maintain momentum. I would love to see new games that feature greater use of the touchpad on the Dualshock 4 as well as games that offer co-op play so players with the PS 4 camera can use the video and chat functions in game. I imagine a new SOCOM style game would be ideal for this as being able to see your team in little windows during a raid could be a nice twist as would being able to record and upload the missions.
Naturally I would love a new Uncharted and The Last of Us game but sequels are not always the best answer as the high risk/high reward of developing new franchises is where the best path to success can be found. Until then, enjoy what is coming and look forward to even better things to come.
Garth von Kallenbach  Skewed & Reviewed