Gift ideas – The Quirky, the Funny and the Downright Weird
It's that time of year again when we have to try and figure out what we're going top buy our loved ones for the holiday season. The pressure is on and I'm already feeling stressed, I tend to fall back on the old standards when it comes to gifts; sweaters, purses, books, perfume, you know, the same old same old. This year however I thought I'd go online and see if I could come up with something a little different. An hour or two on the Internet was all I needed to come up with everything from quirky but really cool, to silly goofy presents and from very strange to completely weird.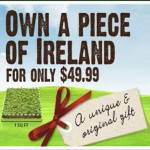 Here are my top 5 unusual gifts:
My first big find for an Irish friend now living here in Canada is a to give him the deeds to one square foot of his motherland. That's right – at buyireland.com you can legally purchase a tiny plot of land (one square foot) for $50 USD.
One gift I'd like to give someone with a big ego this holiday season is a custom bobblehead – it's really easy, all you do is choose a body style (of course at this stage you have to choose how much you like the person), download a photograph or two and wait for delivery. At around $80 – $100 it's not an inexpensive gift but for the right egocentric person it could be perfect. Here's a couple of companies with Canadian sites that seem to do a good job of making them look like the person they are supposed to be: http://www.bobbleheadscustom.ca or http://bobbleheadscanada.ca.
This next gift sorta makes me shake my head. For just south of $2,500 you can get the camper in your life a black bear sleeping bag. It's a dead ringer for the real thing – it has a head, teeth, flesh coloured lining and looks far too much like the real thing for my comfort. When the mouth is unzipped it looks like the person inside has been swallowed. Imagine waking up and staggering out of your tent in this thing? You'd be in danger of being shot! http://odditymall.com/realistic-bear-sleeping-bag. I call this downright weird!
My next choice is the coolest gift ever. If anyone's listening out there, this is what I want this holiday season. It's a small tile that is actually a tiny Bluetooth tracker. It helps you find things you misplace or lose in seconds. Basically you attach, stick, or place your tiles inside everyday items and keep track of them with an easy-to-use app. Not only that, if for instance someone steals your bike and it has a hidden tile, you can mark it on the app as a lost item – this puts all other tiles on alert. If another tile user gets within range of your bike, a discreet message is automatically sent via the cloud to the Tile Company and then you are alerted as to where your bike is. Now I call that really cool! See a video at: https://www.thetileapp.com
Here's a gift for all those of you who love Hotel Zed, Accent Inns' sister hotel – a Polaroid camera toilet paper holder. This will take you back to the eighties in style. http://www.thegiftsformen.com/polaroid-toilet-paper-holder.php
One gift that's isn't quirky is an Accent Inns gift card. It's the perfect holiday gift of a getaway, or if you have friends and family who'd like to come and stay but you don't have room to
put them up, give them a gift card and it'll be a no-brainer for them!
They just had a contest to win a $500 gift card! https://www.accentinns.com/blog/at-accent-inns-we-get-it/
If you'd like to simply purchase a gift card, they are available at any Accent Inns location, or by calling their toll free number: 1-800-663-0298. Gift Cards are available in any denomination and can be used at any location.
Mike Wicks
Blue Beetle Creative