FSIBC's 30th Anniversary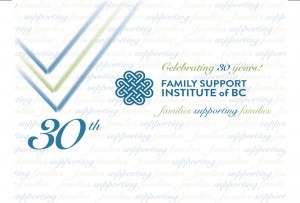 Help them to continue to support families!
Has YOUR family been supported by FSIBC and theirr volunteer network? Do YOU know of someone who could benefit from their approach to support? Help them to continue to support families!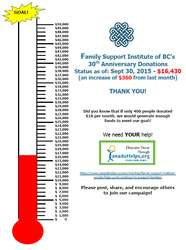 Check back regularly for an update and watch their thermometer rise at: http://www.familysupportbc.com/sites/default/files/resources/fsi_-_30th_anniversary_fundraising_thermometer.pdf
The Family Support Institute of BC Society (FSIBC), through their volunteer Resource Parent (RP) / Resource Family Member (RFM) network, has supported tens of thousands of families over the past 25+ years – building a better quality of life for families with a family member with a disability in communities throughout BC.
FSIBC works hard to decrease our dependence on Gaming funds, but they need YOUR help. In order to remain strong, independent and non-reliant on government, they are looking at a variety of ways to help them including: applying for more diverse grants; developing and maintaining new corporate relationships and partnerships; and looking to increasing our donations (including donations in kind such as time, expertise, services and physical items that support the work they do).
Help them to continue to help families so they feel less isolated and alone!
Please consider making a contribution to FSIBC so they can continue to provide the support that families deserve and need; and to become more self-sufficient and less reliant on the funds offered by government. YOUR donation will be put towards training, networking opportunities, family support, and community outreach.
If you are unable to contribute at this time, we understand and thank you for taking the time to check out their campaign.