Fishing for a Christmas Present?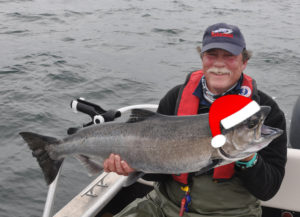 At Accent Inns we know many of our regular guests are also fishing enthusiasts. To that end we are thrilled to offer some great Christmas gift ideas from our friend Larry at Island Fisherman magazine.
What would I like for Christmas? What a great thought for a salmon and trout fisherman who also loves fly fishing….
It seems most of us who fish have no problem with anything fishy as a Christmas present.  When it comes to salmon a couple of products that are always a hit for a stocking stuffer are some hoochies, the Army Truck squid, Purple Haze or the green and white glow hoochies which are always productive for hooking all species of salmon. Put in a couple of Hotspot U. V. Purple Onion Flashers and you got two winners. Next, throw in some salmon hooks 1/0 to tie up the hoochies if you bought them in bulk, something I highly recommend.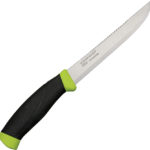 Another cool item to receive is a filleting knife. Find one with a thin blade with a spoon on the end of the handle and hopefully one that floats as well. I like to purchase the ones with the lime green handle as I can find them easily and they keep their edge.
If your fishing partner spends any amount of time on the water he or she should be wearing a life jacket at all times. A Mustang Survival's HIT Inflatable Life Jacket with Hydrostatic Inflator Technology was designed for the serious user. Included are a bright fluorescent yellow-green inflation cell, reflective tape and a safety whistle. Besides being a great gift, it is also a life saver.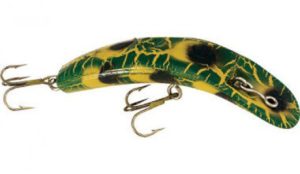 Trout fishing and heading to the lake seem to go hand in hand. One of the things that I really enjoy about my lake trip is lunch. Nothing better than a tail gate lunch with some smokies to add to the experience. I find the Coleman Camp Bistro stove, which is a one-burner propane tabletop, does the trick. But any one-burner propane stove will be a winner under the tree. Why not throw in a gift certificate from your supermarket for the buns and smokies?
It you are looking for a few stocking stuffers for your trout fisherman, try a couple of Wordens flatfish lures, maybe F-4 frog or the F-4 Skunk. And needle nose pliers or a new hemostat with a wrist strap are also ideal.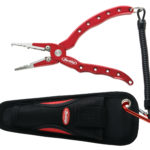 It your partner is a fly fisher how about a lanyard loaded with all the tools and gadgets so he can wear it around his neck, like a retractable gear keeper? Or you could try fly floatant, a tippet holder or a nail knot tying tool. And I have never met a fly fisherman who does not like a new fly box. Of course a good fall back is a gift certificate to his favorite tackle shop or marine store which is sure to be a hit. If your family fisher "person" likes to travel to great fly fishing destinations like I do, a gift certificate to Accent Inns might just be the ticket. I've stayed at the Kamloops location many times myself as I visited some incredible fishing destinations in that area.
Lastly, for those more community or environmentally focused, how about a donation to his or her favorite environmental or enhancement charity such as the Pacific Salmon Foundation.
Larry E. Stefanyk
Publisher
Island Fisherman Magazine