Christmas is Coming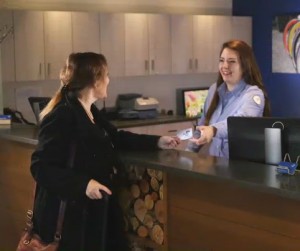 and Accent Inns wants to let you know that, "We Get It."
Accent Inns understands that Christmas can be a magical and stressful, wonderful and tiring experience for many people, especially for those who are travelling to spend time with their families, so the family-owned chain is offering rates for Christmas Eve and Christmas for those weary family members arriving from afar.
On Christmas Eve and Christmas, rates are available at $79 Cdn and include a one night stay in a standard room with breakfast at any of the participating Accent Inns locations (subject to availability and based on double occupancy).
Christmas is an amazing time to get together with your family and friends, but sometimes you want to have your own space and not have to share the twin bed in the kids' room at Aunt Mildred's,  says John Espley, director of marketing and communications for Accent Inns.  To assist those families travelling throughout BC during the holiday season, we devised a straightforward approach to our rates for Christmas Eve and Christmas day.
For more information and to book the We Get It rate, visit www.accentinns.com or call 1-800-663-0298.
About Accent Inns
Accent Inns likes to describe themselves as not your typical, stuffy hotel chain. Yes, they have modern, clean rooms, but they will also tell you where to go (in a good way). They will give you the down low on where the locals hang – the hot spots for shopping, dining and hitting the town. Oh yeah, they also like to mention that they are also a pint-sized, boastfully BC hotel chain with five locations; Victoria, Burnaby, Vancouver Airport (Richmond), Kelowna & Kamloops and each of them is a winner of the TripAdvisor "Certificate of Excellence." Stay local. Stay real.
Video links:
We Get It: Relax (15"): https://youtu.be/fxXrTAclv08
We Get It: Underwear (15"): https://youtu.be/6ZkRxs1vjn0