Camosun Chargers Volleyball Prepares For Playoffs
Camosun's Alex Wolf earns PACWEST Men's Volleyball Athlete of the Week Award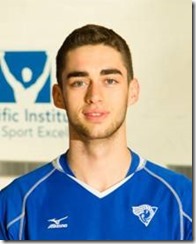 Third-year Camosun student-athlete Alex Wolf had a stellar weekend in the Chargers two wins over the CBC Bearcats, February 1-2. The 6'3" power from Surrey, BC was called on to play two different positions.
On Friday night Wolf played on the right side and contributed 13 points to the victory, with 11 kills, 2 ace serves and a number of key digs. On Saturday he returned to action, this time in the P1 position, and again led the Chargers with 12 kills on a stellar .500 efficiency, 2 blocks and another ace, along with 6 digs.
Wolf's two match total of 23 kills (overall .410 efficiency), 3 aces and 2 blocks represent a career high for the third year, multi dimensional Camosun athlete and are a signal that he is rounding into form as the Chargers head towards the playoffs.
Wolf is studying Criminal Justice at Camosun and is a grad of Earl Marriot Secondary in Surrey.
With only two weeks of competition preceding the PACWEST playoffs, the Camosun Chargers volleyball teams are gearing up to play their final home matches of the season as they take on the Capilano University Blues this weekend, February 8 and 9.
For several veteran players, this weekend will be the last time they will don a Chargers uniform and be cheered on by a Camosun home crowd.
"It will be interesting to see how far each team has come over the course of league play and who will be heading toward peak performance as the Provincial Championships draw near," remarks Coach Parkinson. "CAP is a smaller team, but they rely on their defensive ability and offensive speed to defeat larger opponents. This was evident in their two wins last week against the much taller College of the Rockies."
Coach Parkinson adds, "Serving, passing and blocking are the keys to our success. If we can control our first contact our setters run an offense designed to create isolations and no team in the league can defend the quality of our attack on a consistent basis if the pass is on the money. From our side of the court we must serve hard and strategically to interrupt the speed of their attack. Once their middle is out of the equation our block can establish the correct rhythm against their attackers and create transition opportunities."
Catch the Chargers volleyball teams in action this weekend at PISE or watch the webcast live on SportsCanadaTV.
| | | | |
| --- | --- | --- | --- |
| Friday, Feb 8 | Women | 6pm |    Camosun (#4) vs. Capilano (#5) |
| | Men | 8pm |    Camosun (#T3) vs. Capilano (T3) |
| | | | |
| Saturday, Feb 9 | Women | 1pm |    Camosun  vs. Capilano |
| | Men | 3pm |    Camosun  vs. Capilano |

Bonita Joe | Marketing & CommunicationsFor further information contact:
Camosun College Chargers Athletics
Centre for Sport and Exercise Education
Pacific Institute for Sport Excellence
4371 Interurban Rd Victoria, BC V9E 2C5
T: 250 220 2506 F: 250 220 2502