April is Daffodil Month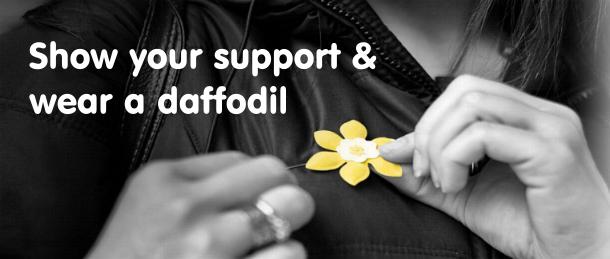 The daffodil is a symbol of strength and courage in the fight against cancer.
Buy a daffodil pin and wear it in April to show Canadians living with cancer that they are not alone.
For more information, visit www.cancer.ca
Pins are available at every Accent Inn in BC as of Friday March 28;
Victoria, Vancouver Airport (Richmond), Burnaby, Kelowna, Kamloops
On Daffodil Month the Canadian Cancer Society asks Canadians to take a moment to reflect upon the thousands of people who are living with cancer and to remember those who are no longer with us, and encourage Canadians to do something special for those living with cancer or to contribute in some way to the fight against this disease. For example:
Tell a loved one or friend with cancer that you are thinking of them and let them know about the Society's information and support programs.
Do something special for someone you know with cancer (for example, make a meal, do an errand, babysit).
Contact your provincial or local politicians to voice the importance of fighting back against cancer and tell them how they can join with the Society in this fight.
Make a presentation in your community to help raise awareness about how Canadians can fight back against cancer.
On April 27, 2014 – 1:00 p.m. at The Inn at Laurel Point. Join the Canadian Cancer Society in celebration of Daffodil Month with an afternoon of tea and fashion show!  Learn about the history of tea and its health benefits while you sip samples from our friends at Silk Road Tea. Support our local cancer survivors as they model this season's latest fashions and indulge in one of Victoria's time-honoured traditions.
http://www.cancer.ca/en/events/bc/2014/daffodil-tea-and-fashion-show/?region=bc#ixzz2x6jUmgni
Tickets: $30   For more information or to purchase tickets, please contact Heather at 250-414-4252 or [email protected].
Events will be taking place in communities across Canada during Daffodil Month. Contact your local community office to find out more.
Giving a Little makes a big difference – Look at what Daffodils do:  http://www.cancer.ca/en/get-involved/events-and-participation/find-an-event-near-you/daffodil-month/look-what-daffodils-do/?region=bc