Accent Inns Welcomes Goats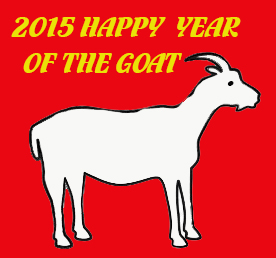 Well, not the furry kinds with horns that bleat all the time but goats in Chinese astrology, as this is the year of the Goat. If you were born in one of the following years: 1919, 1931, 1943, 1955, 1967, 1979, 1991, 2003 you are astrologically speaking a goat. This is not a bad thing as you are thought to be a calm and gentle person, easy going, thoughtful, friendly, but at the same time candid and genuine.
You should make the best of your special year, as the next year of the goat is not until 2027!
If you are staying at either of our hotels in Vancouver (Richmond and Burnaby) or in Victoria it's a perfect time to visit the Chinatowns in both cities.
Victoria's Chinatown is the oldest in Canada and the second oldest in North America after San Francisco. It was founded in 1858 as a result of a massive influx of miners from California during the gold rush. A third of them were Chinese and their numbers increased in the following years, as more immigrants seeking their fortune came from China.
Five things not to miss:
The Gate of Harmonious Interest – This beautiful gateway to Chinatown was built in the early 1980's and features golden tiles and red pillars.
The stores and restaurants, which line Fisgard Street – a bustling thoroughfare and heart of Victoria's Chinatown will provide a full morning, or afternoon's entertainment.
Fan Tan Alley – the narrowest street in Chinatown, is now home to fascinating stores, offices and homes. See if you find the store close by that houses a recreation if an opium den!
Jeff Maltby's Murals – check out a 19th century street scene featuring a life-like view of a herbalist shop, and a scene showing three children from different periods on their way to school.
Discover the myths and mysteries of Chinatown by taking a fascinating 90-minute walking tour. Check it out at http://www.discoverthepast.com/
Vancouver's Chinatown may not be the oldest in Canada, but it has been voted as one of the cleanest, and features some of the city's most historical buildings.
Five things not to miss:
The Century's Winds of Change Mural – this mural depicts Chinese history in Canada from the mid 1800s to the present day. (11 West Pender Street)
China Gate – this gate was part of the China Pavilion at Expo 86 and was subsequently donated to the City (50 East Pender Street)
Shanghai Alley – early Chinese immigrants settled the street in the late 1800s. This small alley with adjoining streets was the original heart of Chinatown. Look out for a replica of the West Han Dynasty Bell. (Near West Pender Street)
Sun Yat Sen Classical Chinese Garden – this is rated as world city garden by National Geographic and well worth visiting. (578 Carrall Street)
An unlikely addition to our Chinatown must-sees is a shrine to Jimi Hendrix. Although disputed (some say the house was next door) it is said that Hendrix's grandmother, Nora Rose Moore Hendrix owned a restaurant at this site and Jimi lived there while attending primary school. (207 Union Street)
If after a day hiking around either Chinatown and immersing yourself in everything Chinese you feel like eating this wonderful culture's food, check in at your Accent Inns front desk and we'd be happy to help direct you a local Chinese restaurant.
John Espley, Director of Marketing & Communications
Accent Inns