Accent Inns Russ Hay's Cycling Team Rides Again
Accent Inns & Russ Hay's Renew.  Scotiabank Steps Up.  Canadian champion Curtis Dearden to defend Title in 2014. Women's & Men's Team Increase in Horse Power
December 13, 2013 – Victoria BC
T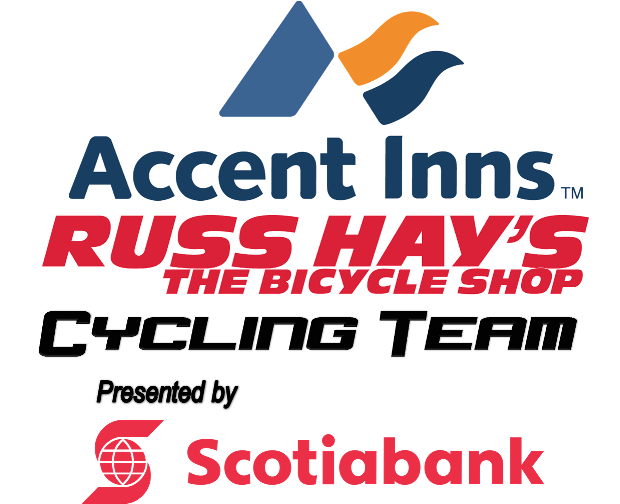 he Accent Inns Russ Hay's Cycling Team presented by Scotiabank has announced today its Team roster and new partnerships for the 2014 Racing Season.  "We are very pleased to see that our racing program for 2014 is receiving great interest and support," explains Jon Watkin, General Manager, "We have been able to strengthen our roster into a winning team on all levels."
Returning to the team is reigning Canadian National Time Trial Champion, Curtis Dearden, who has set his sights to defend his title at next year's championships in late
June.  "I'm really looking forward to another great year, riding for Accent Inns / Russ Hay's, and would like to thank all of this year's supporters for making it possible. I can't wait for the racing to start this year! My number one priority is to defend the championship I won this summer, and wear the Maple Leaf through to the next year."   Curtis and his wife Amy are also launching their new coaching business, Peak Endurance, by hosting the team's Training Camps and performing Fitness Testing for the Athletes throughout season.  "We are also excited to launch our coaching platform 'Peak Endurance'", Curtis says. "Partnering with RH/AI gives us a great opportunity to work with some of Victoria's best athletes. We look forward to many great performances to come as a result of this partnership."
Russ Hay's the Bicycle Shop and Accent Inns have re-signed as co-title sponsors of the team.  "It's wonderful to once again be a partner in the title sponsorship of the Accent Inns / Russ Hay's elite cycle team. Our customers and staff have been really excited watching the fantastic success and achievements of the riders. As BC's most Bike Friendly hotel chain supporting these local young cyclists is a perfect fit." Says Mandy Farmer, President  & CEO of Accent Inns and a real "Bike Lover".   Accent Inns provides bike friendly accommodations at all 5 BC locations as part of its "Bike Love" initiative.  This includes providing ground floor storage rooms, Bike wash and Tuning Stations, Access to Advanced Tool Kit, and access to their Laundry Room.
"We are delighted to partner with Accent Inns for the 2014 cycling season. All of us at Russ Hay's are very excited about our team and look forward to assisting them in helping to achieve some good results. It is a pleasure for us to be part of cycling development in BC." says Mike Clermont of Russ Hay's the Bicycle Shop.  His business was recently voted one of the top bike shops in Canada for 2013 by Canadian Cyclist and was recently acknowledged in the Times Colonist newspaper for its efforts to donate refurbished donated bicycles from the community to the Single Parent Resource Centre in Victoria, BC.
Scotiabank has stepped up their commitment for 2014 and are now positioned as the Presenting Sponsor of the team. Shayne Martin, who is a Home Financing Advisor in Victoria explains, "I am looking forward to the new upcoming 2014 racing year and very honored to return as a proud sponsor in supporting the Russ Hays Accent Inns Racing Team. I also look forward to watching Curtis Dearden defend his national championship title. I am very confident in this great racing team and proud to be supporting the team along with Curtis in becoming a repeat national champion."
The team will continue to be supported by Specialized Bicycles, with a number of team athletes racing on Specialized Tarmac, Venge, and Shiv TT models.
Returning Sponsors include Rumble Drink, Dave Wheaton GM, 2% Jazz Coffee, Sugoi Clothing, Robert Cameron Law, Dale Collins Prosperity Planning, and Ryders Sunglasses.
The team is proud to announce new partnerships with Penna Kitchen & Giftware and Catalyst Fitness.  Mark Milburn, Owner of Catalyst Fitness, has a strong passion for cycling and is excited to provide world class core strength conditioning and training as part of the team's winter training camps.  "I am sincerely looking forward to working with the team and grateful for the opportunity", Mark says.  "I have always believed that cyclists, although considered strong athletes, have overlooked the benefits that strength training can bring to their overall performance.  Who doesn't need more power, a more stable core, or strength to get them those extra seconds when in an important race."
RETURNING TO THE TEAM FOR 2014
Curtis Dearden (Victoria, BC) is the team captain and the current Canadian National Cycling Time Trial Champion.  He will be targeting key spring and early summer races in preparation to defend his title in late June.
Jordan Duncan (Comox, BC) is the 2013 U19 BC TT Champ.  His goal for 2014 will be to ramp up efforts to compete with the U23/Elite men next season and to be a support rider.
Luke Koolman (Victoria, BC) will also be returning to the team to build on this year's successes and to target for top 10 finishes at major Cat 1 – 2 races for 2014. He also will be a valuable support rider for our GC and one event contenders.
Jordan Cheyne (Kelowna, BC) is a U23 Time Trial Powerhouse: His palmares includes Winner of EVO Stage Race TT, Winner of Tour of Wenatchee TT, Tour of Catskills TT and Queen Stage Winner, and 3rd at Canada Summer Games TT.
Emile DeRosnay (Victoria, BC):  A veteran of the team, Emile continues to amaze by outperforming athletes half his age.  He is the reigning BC Provincial Omnium Track Champion and a consistent high performer at Cat 1-2 races.
Raph Lalumiere (Victoria, BC):  Raph returns to bring power and strength into the team.  After a solid 2013 Cyclocross season, he is setting his sights on top 10 finishes with the goal for a podium result for next year.
Cid Martinez (Victoria, BC):  Originally from Bolivia, Cid is one of the fastest sprinters on the team.  He will be a key player for the BC Superweek series and will be hoping to crack a top ten at the UCI Tour de Delta Road Race in July 2014.
Dylan Cunningham (Victoria, BC):  After a breakthrough season of racing in France, Dylan is back in BC to race in North America and to reveal his new found fitness.  Known as one of the team's pure climbers, Dylan is placing his focus on a top finish at the 2014 BC Road Cycling Championships.
Mike Rothengatter (Vancouver, BC):  Mike is returning from injury to rejoin the team for 2014.  He is expected to play a supportive role for the team and to be a stronger factor in the later part of the racing season.
NEW ADDITIONS TO THE TEAM FOR 2014
Dylan Davies (Vancouver BC): is one of the most under-rated elite cyclists in BC.  He comes from a fixie/ track background, but has shown to have impressive climbing abilities as evidenced from his runner up placing to Adam DeVos at the 2013 BC Provincial Road Cycling Championships.  Dylan is looking to take the top podium position in 2014.
Greg Christian (Vancouver BC):   Greg thrives in races that are wet, cold, muddy, and windy.  As the 2013 Barry's Roubaix defending champion, he is looking to repeat and win again in 2014 and to also make mere mortals suffer.
Cody Canninng (Edmonton AB): Currently residing in Victoria, Cody has made the transfer over from Trek/Red Truck.   His racing resume is impressive with career highlights of 2nd at the 2012 Canadian National Criterium Championships and 1st at the 2013 Tour de Bowness and Race the Ridge GC.  Cody will be the team's top positioned racer for BC Superweek with the goal of placing him on the winner's podium.
Jacob Schwingboth (Vancouver BC):  Jacob is returning from a 1 year hiatus to the sport that he loves so much.  Knicknamed the "Flying Squirrel", Jacob's impressive race results include 1st Place at 2011 U23 Canadian National Crit Champs,  1st Place 2012 BC Road Cycling Championships, and 4th Overall of the BC Superweek overall series.
Meghan Grant (Vancouver BC):  Meghan is a consistent top 10 finisher in the Women's Pro/1,2,3 field.  She is an all round athlete with solid performances in Road Race, Criteriums and Time Trials.
Allie Guenther (Victoria BC): Allie is currently a targeted athlete as part of the Canadian Sports Institute Cycling Development Fasttrack Program.   She is the 2013 BC Provincial Track Champion in the Women's Omnium, Keirin, and Sprint events.  She is also an accomplished Time Trialist.
Katie Rushton (Victoria BC): is an up-and-coming athlete who is progressing rapidly through the women's elite ranks.  She is setting her sights to focus on Criteriums and to get a solid result at BC Superweek.
Returning as General Manager is Jon Watkin who is also the Race Director of the Robert Cameron Law Cycling Series.  Jeff Werner, who was one of the team's strongest and most consistent athletes in 2013, will continue to race, and will also be taking on a Director Sportif role with the team in 2014 and provide tactical guidance to the Elite men's Squad.  Amy Dearden, who has years of elite racing experience, will be taking on the women's team coordinator role.
The Team is currently planning for its first off-season winter training camp in Victoria BC from Dec 13 to Dec 15
The Accent Inns Russ Hay's Cycling Team is one of BC's top trade cycling teams with emphasis on the development of high performance cyclists.    The team will compete in the top races in Western Canada and the United States Pacific Northwest. Visit www.russhaysracing.com for more information. 
Email: [email protected]   General Manager:  Jon Watkin