2013 Russ Hays / Accent Inns Bastion Square Grand Prix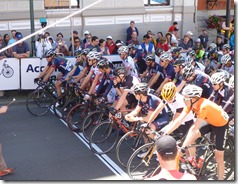 What an awesome day it was in Victoria on Sunday June 2nd. The Bastion Square Grand Prix is the final race in the Robert Cameron Law cycling series, part of the Victoria Cycling festival. Accent Inns along with our friends and team partners at Russ Hays were proud to sponsor the final big race.
The racing at all levels was exciting… even the Tim Horton's timbits challenge saw the kids doing a whole lap of the course and still sprinting to the finish.
The level of intensity and endurance was spectacular to watch from all the competitors. It was impressive to watch the high school races as you could easily see some up and coming serious cycle racers.
The Women's and Men's finals lived up to all expectations with dozens of lead changes, solo riders challenging teams. We witnessed leaders taking off leaving large gaps only to find time and again the riders bunched up, planning their strategy for the next push.
The Weather and incredibly scenic venue of downtown Victoria B.C. and the inner harbour made for a wonderful show for the thousands of spectators present. This is indeed a spectacular event for Victoria and if you've never witnessed this level of cycling racing before, plan for next year. You'll love it.
Our Thanks and Congratulations go to the Series & fellow Race Sponsors, Organizers and Volunteers.
Here's the official wrap-up from the Race organizers:
Robert W. Cameron Law Cycling Series
Anderson Comes Home to a Win; Dyck takes Women's Title
June 2, 2013 – VICTORIA, BC – The Russ Hay's/Accent Inns Bastion Square Grand Prix criterium is a smoother ride than what Canada's #1-ranked women's cyclocross rider Mical Dyck is used to, but that didn't stop the Pro City Racer from taking a tough finishing sprint win from Trek Red Truck Racing, p/b Mosaic Homes' Megan Rathwell.
"I was pretty tired after all the punchy stuff, particularly after yesterday," Dyck said, describing the uphill last leg of the 900-metre crit course and yesterday's Westhills Road Cycling Classic which crowned Rathwell BC Road Cycling Champion.
The 45-lap women's elite race saw Trek Red Truck's Rathwell second and Russ Hay's Accent Inns' Nik Vogler third, all finishing in 54 minutes, 26 seconds.
As the lone Pro City Racer rider, Dyck credits the five-woman Trek team with keeping the pace going throughout. "They have pretty interesting tactics," she said.
On the men's side, it was an all-out brawl at the end with Victoria's pro rider Ryan Anderson taking the final sprint and the RH/AI Bastion Square criterium win.
"It was nice coming back to Victoria to win," says Anderson, a Spidertech pro rider and graduate of the Victoria Academy of Cycling. Riding as an independent, Anderson lacked back-up, but said that he wasn't worried about being the lone ranger.
"I'm pretty confident about my form," he said after the 75-lap race. "I just needed to make sure that the group stayed together."
And stay together the field did, keeping a finishing pack of 30 (of 55 starting) riders together for virtually the whole race. Trek Red Truck team-mates Jesse Reams and Bailey McKnight finished second and third respectively with a pack time of one hour, 22 minutes and 30 seconds.
The Russ Hay's/Accent Inns Bastion Square Grand Prix capped off a remarkable three days of the Robert W. Cameron Law Cycling Series which also included the Rumble Time Trial and Westhills Cycling Classic /BC Road Cycling Provincial Championships. The weekend field included more than 225 adult riders, middle and high school students as well as 150+ Tim Hortons Timbit Challengers – kids aged 3 to 10.
The Robert W. Cameron Law Cycling Series Omnium female winner is Megan Rathwell (with Mical Dyck second and Nik Vogler third) while the male winner is Ryan Anderson with Trek Red Truck's Bailey McKnight second and Raleigh UK's Rob Britton third.
Full results will be posted at www.victoria-cycling.com
Sharon White, Media Director