2012 Cycling Series Victoria BC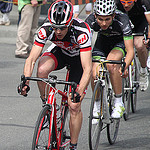 What a weekend! June 1-3 here in Victoria BC we enjoyed the Robert Cameron Law Corporation Cycling Series. The weekend began with the Specialized / Russ Hay's Time Trials. It was a breezy and slightly chilly evening but the view from Victoria's Dallas Rd. trumped the weather and the cyclists didn't disappoint when it came to giving it their all for the crowd. This event has each rider challenge only themselves. many even have specialized time trials only bikes and watching them dawn the sleek aerodynamic helmets brought back memories of Star Wars. Unlike Star Wars there was no Darth Vader to fear, only the clock.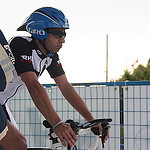 Saturday brought the Accent Inns Classic BC Road Cycling Championships. This time the riders would not depart individually but as a group. Everyone gathered at Hans Helgesen Elementary school on Rocky Point road in lovely Metchosin BC. What might be thought of as a beautiful ride through the country (check out the Eggs and Manure for sales signs that flanked the route)  was turned into a heart pounding, lung tearing push. Up and down hills, back to back curves, very little straight away's and as the roads are not closed for this race… occasional vehicle traffic. Being the Accent Inn guy I was invited to ride in the lead officials car along with Commissaire John (he's like the referee), season veteran David (an Ex NASCAR driver) and the series sponsor Bob Cameron. What an incredible opportunity to watch a road cycling race as it happens at every turn. I took advantage of the situation and hung part way out the rear window of the car for most of the photo's. Don't try this at home! Going around corners, over hills and bumps while hanging outside a car window is a great recipe for a seriously bruised shoulder..but it was worth it!. The riders varied their speed throughout the races at times reaching over 80 Km and hour. Of course a race likes this can take it's toll and a few riders were lost to mechanical issues, physical challenges and unfortunately we witnessed one rider from the Russ Hay's/Accent Inns team do a full flip, bike and all, into a ditch at one of the curves. Luckily St John's Ambulance folks were there quick and a BC Ambulance shortly after. He's a bit stiff but OK is the word we received the next day.
The Final Day was the Grand Finale. The Bastion Square Grand Prix sponsored by the Condo Group. Talk about an inclusive event. They had several levels of races for both the men and ladies, a ladies citizen race, Tim Horton's sponsored kids races (talk about cute) and of course the championship races for ladies and men. Witnessing some of the best riders in the west compete was awesome. I was struck not only by the speed and tightness of how they raced but interestingly enough by the sound. As you stood and waited for the pack to come by you heard the murmur of folks chatting but once the riders were upon you the low roar and "whoosh" of their tires on the asphalt was surreal. When I stood near a corner I could hear the squeal of brakes so that they didn't run over the person in front. On the straight-a-ways the frantic changing of gears and the grunts as riders would dig down and push hard. The finale thing about being at race level was hearing the chatter or directions the riders would shout to each other. Some to their teammates, others to their colleagues and some I just can't mention here. For me this was an experience I'll never forget and all of us at Accent Inns are thrilled to be working with the race organizers. If you've haven't attend a road cycling event before you should.
If you'd like to see a whole lot of photo's from each event follow this link to the Accent Inn Flickr page
Stay tuned for more as this Bike Friendly hotel chain is just "gearing up". It has been so exciting to be a team sponsor this year, the Russ Hay's/ Accent Inns team, and to watch our team achieve some incredible results.  GO TEAM!
For race results follow this link.
Thanks to CHEK NEWS/SPORTS for their coverage of the events, links below:
Robert Cameron Law Cycling Series Kick-off  & preview
Specialized / Russ Hay's Time trials preview 
Accent Inns Classic 2012 BC Road Cycling Championship
Special thanks go to the guys from Russ Hay's Bikes and Robert Cameron Law for sponsoring and supporting these events. And an even bigger thanks to Jon Watkin who really did organize all the events over the weekend!
written by John Espley, PR Guy for Accent Inns