10 Ski Resort Activities for Spring Break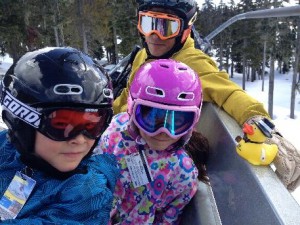 What better way to usher in Spring than having one last winter fling? There are around 20 ski resorts in B.C. all of which offer so many adventurous things to do you'd be hard pressed to find a more exciting way to spend spring break no matter the age of your kids.
I took a look at Big White, Sun Peaks, and SilverStar resorts to see what they were offering at the moment and was astounded to discover a list of activities that's hard to beat. We live in a very special, and spectacularly beautiful province and we should make the best of it as often as we can.
Of course, it is Spring so if you'd like to spend your evenings and perhaps some of your days enjoying 'non-winter' Okanagan these three resorts are not far from Kelowna, Vernon, and Kamloops with their fabulous restaurants and cultural activities. If you're looking for great value accommodation, you'll not find better than the Accent Inns in Kelowna and Kamloops. Spring break can start to become expensive, so staying downtown at an Accent Inns room with a kitchenette is a great way to save, and the mountains are a relatively short drive away.
Not all the resorts I mention above offer all the activities I discuss below, but you'll have no trouble finding them on one or more of their websites.
Skiing and Snowboarding
Enough said – great ski hills for all skill levels at all three resorts!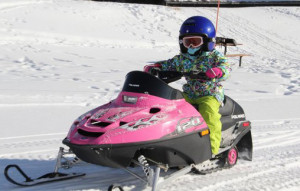 Snowmobiles for Kids
Just like the grown ups but smaller and on a track specially built for them. All the thrills without the spills!
Snowmobile Tours
This is an exciting way to see some of the resorts' backcountry. Tours are available for all skill levels and range from top-end advanced powder riding to a casual family cruise. If skiing or snowboarding isn't your thing driving a snowmobile is a great way to be at one with the mountain. Fun and adventurous – not to be missed.
Sleigh Rides
Christmas may be a distant memory, but riding on a horse-drawn sleigh through a winter wonderland is hard to beat even as spring beckons. Add warm blankets, hot chocolate and the whole family can join in!
Ice Skating
Huge outdoor rinks – mountain vistas – fun for all ages and all skill levels.
Snowshoe Tours
For the more active, trekking into the wilderness along secluded snowshoe trails puts you at one with nature. This is a great way to see mountain wildlife and learn about BC's backcountry, especially with an experienced trail guide. Technology has made snowshoes lighter and easier to walk in, so it's now become far more of a family activity.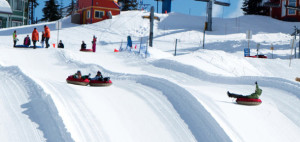 Tubing
Okay, this is truly exciting and exhilarating. No skill needed, no equipment just a desire for adventure in the snow and ice. Resorts usually keep their tube parks open after dark so if you've been skiing all day this is a chance to keep the fun going strong.
Snow Bikes or Fat Bikes
Huge fun activity for your kids, or for you if you're brave enough. These bikes have been specially adapted to ride on soft and shifting terrain. Resorts host tours to teach you how to ride in the snow. (remember Accent Inns are "bike friendly" if you bring your own bike)
Ice Climbing Tower
As far as I know only Big White has an Ice Climbing Tower, and this is a scary activity. Having said that it's open to all ages. The tower is 60-feet high and the challenge is on to see which of your family can reach the top first, or at all! Big White supplies all the climbing gear.
Dog Sled Tours
Whether you sit and watch the world go by, or stand beside the guide and do some of the mushing, this is something you won't forget. You'll even get a chance to drive the sled. It'll be cold so lots of layers. Are you up to it?
It reminds me of these lines from Robert Service's poem The Cremation of Sam McGee, "On a Christmas Day we were mushing our way over the Dawson trail. Talk of your cold! Through the parka's fold it stabbed like a driven nail. If our eyes we'd close, then the lashes froze till sometimes we couldn't see; It wasn't much fun, but the only one to whimper was Sam McGee."
I'm sure your springbreakers won't whimper a bit if they do any of these fun activities. And remember there'll be hot chocolate waiting for you back at your Accent Inns reception – because they know it'll be the perfect end to a perfect day playing in the Okanagan winter landscape.
Mike Wicks
Blue Beetle Creative