Wear a Poppy to Remember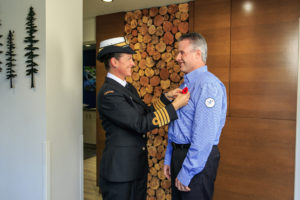 This year has more significance for the our Accent Inns family. Our own leader, Mandy Farmer, has been named the honorary Capt. Of the Navy here on the West coast. This makes remembrance day have even more significance for us and we encourage all of you to join us in remembering and thanking those who have served and are serving now.
Accent Inns continues to support The Royal Canadian Legion BC/Yukon Command with this promise; for every guest wearing a poppy on November 9, 10, and 11, 2016 when checking into an Accent Inns hotel , a $5 donation will be made to the Royal Canadian Legion BC/Yukon Command's Poppy Campaign.