TripAdvisor Reviewers Have Done it Again!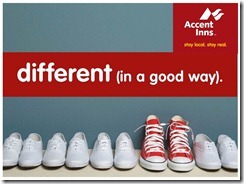 Oct 3, 2012
For Immediate Release
TripAdvisor Reviewers Have Done it Again!
It was pretty special when Accent Inns announced that all five Accent Inn hotels around the province had received a TripAdvisor Certificate of Excellence in 2011. Can you believe they've done it again!
Actually their customers have done it with submitting all those wonderful reviews. The little home grown,  local BC hotel chain has received a 2012 TripAdvisor Certificate of Excellence for every one of their 5 locations.
Why did they do so well for reviews? "It is really the awesome team behind the scenes that works so hard to give every  customer a comfortable, fun and relaxing stay. We've recently gone through a re-branding process for Accent Inns and when we were taking that hard look at just what makes us special, different, we came to the conclusion that it's our people. The fun new style you can see online and in our properties is a testament to the wonderfully relaxed and fun way our team members go about their jobs and interact with our guests." Mandy Farmer, President & CEO Accent Inns.
As everyone knows, the accommodation industry is extremely connected to the internet. That connection revolves around not just pricing,  but more importantly  around ratings and reviews. The trend now is for Consumers to base much of their travel decisions on what "other travelers" have said about destinations, hotels, attractions and restaurants. On the other side, the world of online ratings and reviews let a little hotel chain like Accent Inns compete against the larger, more well-known brands. No longer is it just  he who has the biggest marketing budget wins, but for savvy travellers it's who walks the talk and really meets or exceeds expectations. "Smoke and mirrors just won't cut it anymore (not that we ever have done that), no matter how much money you spend on advertising," John Espley, Business Development Manager, Accent Inns
About Accent Inns
Not your typical, stuffy hotel chain. Yes, they have modern, clean rooms, but they'll also tell you where to go (in a good way ;). They'll give you the down low on where the locals hang, the hot spots for shopping, dining and hitting the town. Oh yeah, did we mention that they're also a pint-sized, boastfully BC hotel chain with five locations; Victoria, Burnaby, Vancouver Airport (Richmond), Kelowna & Kamloops.
Stay local. Stay real.
About TripAdvisor
The Internet's largest online review site, TripAdvisor®, has recognized BC's local family of hotels, Accent Inns with a 2012 TripAdvisor® Certificate of Excellence for all five of their locations. This certificate honours top-rated accommodation businesses, restaurants and attractions, as reviewed by travelers on the world's largest travel site*. To qualify, businesses must maintain an average rating of four or higher out of a possible five, as reviewed by travellers on TripAdvisor®. Additional criteria include volume of reviews and how recently they have been submitted by TripAdvisor travellers. The accolade is extended to qualifying businesses worldwide.
TripAdvisor® is the world's largest travel site, enabling travellers to plan and have the perfect trip. TripAdvisor offers trusted advice from real travellers and a wide variety of travel choices and planning features (including Flights search, TripAdvisor Mobile and TripAdvisor Trip Friends) with seamless links to booking tools.
TripAdvisor® Media Group, operated by TripAdvisor LLC, attracts more than 50 million unique monthly visitors* across 18 popular travel brands**. TripAdvisor-branded sites make up the largest travel community in the world, with more than 40 million unique monthly visitors***, 20 million members, and over 45 million reviews and opinions. The sites operate in 29 countries worldwide****, including China under daodao.com. TripAdvisor also operates TripAdvisor for Business, a dedicated division that provides the tourism industry access to TripAdvisor's millions of monthly visitors.
The division includes Business Listings, which allows hoteliers to connect directly to millions of researching travellers, and Vacation Rentals, which helps property managers and individual home owners list their properties and showcase hotel alternatives.TripAdvisor Media Group websites have been recognized as top travel resources in 2010 by Condé Nast Traveller, Good Housekeeping, TIME magazine and Travel + Leisure.TripAdvisor Media Group generated $486 million in revenue in 2010. TripAdvisor and the sites comprising the TripAdvisor Media Group are operating companies of Expedia, Inc. (NASDAQ: EXPE).
Contact:
John Espley, Business Development Manager Mountain Man , Accent Inns
Victoria: 250-360-1511 cell: 250-213-9605