Being treated like royalty on the Queen Mary II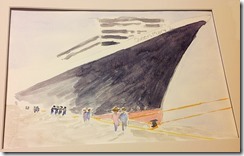 Pam MacDonald is a Travel Agent, Youth Probation Officer, Writer, Painter and overall life explorer. She has generously shared this story of her most recent cruise along with her paintings:
I have been back for less than a week from one of the most significant trips so far in my life. This week I was at work catching up, I am a youth probation officer in a custody center in British Columbia, Canada and have been in that profession for more than 26 years.
For fun and enrichment of my life I travel. I am a home based consultant with Expedia CruiseShipCenters Victoria BC and I feel it is my work to travel on my vacations to experience the world and what it has to offer. In order to explain and recommend to my friends, family and loyal customers, I want to really have some firsthand expertise that I can share. Taking a vacation every 6 weeks is just good business and good self care!
One of the great finds, a small luxurious cruise line, with the world's most famous ocean liner, Cunard. I sailed with Cunard in the fall in Europe, checking out ports of Greece, Turkey and Italy to name a few. I loved it. I decided to book the iconic transatlantic crossing on board the Queen Mary 2 in January 2013. Wow! It is a "must do" for a bucket list. In fact so much of what I experienced on this trip is bucket list material.
We flew to New York, overnighted and enjoyed a quick introduction to Times Square in Manhattan. This is a sight I will never forget. Lights and excitement of the city that never sleeps; only days after the ball dropped signaling the new year, with one and a half million people gathered in person to watch!
We embarked on the most beautiful ocean liner and sailed past the Statue of Liberty and the skyline of New York as we sailed to the port city of Southampton, England.
On route I enjoyed daily watercolor painting classes, ballroom dance lessons and enrichment lectures as well as made friends with some amazing people on the journey.
Stonehenge has long been on my list to see. We arrived in England with a sightseeing excursion arranged for this magnificent experience. We ventured in to Salisbury, saw and toured the cathedral and saw the original Magna Carte. Wow!
We cruised back to New York on Cunard's Queen Victoria. We spent two sunny glorious days in this fabulous city. We saw Broadway shows each night, we ate in wonderful restaurants, stayed in a great affordable hotel in Times Square, visited and reconnected with friends, shopped in the famous Macy's, toured Central Park, Harlem and the garment district, just to name a few highlights. I love New York and look forward to revisiting one day.
I recommend a trip like this to completely get away from daily routine. Seeing the world is always a great idea and cruising is the most amazing vacation I know.
To read more of Pam's adventures, check out her blog http://www.pamelatravelblog.com
Pamela MacDonald
Cruise Consultant
Expedia Cruiseship Centre, 911 Yates St Victoria BC
· Direct: 250 381 7447
· Cell: 250 857 5518
· Center: (250) 381-7447
· Toll Free: 1 800 668 8122
· [email protected]
Check out our Vancouver Airport Stopover package and the Vancouver Stay Park'N Cruise package available at the Accent Inn Vancouver Airport (Richmond BC) location. Stopover packages also available at our Victoria BC hotel and Kelowna Hotel locations.