Surf Sisters – Visiting Long Beach with your dogs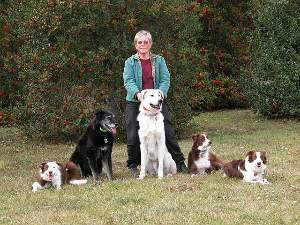 The Surf Sisters & Brock
We started out our weekend on a planned road trip to Long Beach. A "Surf Sisters Weekend" a bunch of women friends that get together to go surfing.
Not often do I leave my own dogs behind on a trip but we "sisters" thought that car pooling would be economical & there would be no room for all our dogs. The trip as always has a little change up . It was a little crowded in the back seat as one of "my sisters" dog sitter cancelled , so we got to share her dogs' backseat with him. You can only imagine how cuddly a big black Lab can be in a small space.
It was a long twisty drive we stopped for "P" breaks and to stretch our legs & our furry friend could mark untouched territory. "Brock" became excited once the familiar smell of salt water, crept into his nostrils. As we turned onto the beach access road you could see beach for miles and miles .
We all piled out of the car , "Brock" was very excited but was willing to wait for "the Sisters" to change into our rubbery space suits, as we ran down to the beach we must have looked darn scary, because "Brock" just stood & watched us go. O.K. so we aren't Madonna ! Trust me those dog wet suits aren't all that attractive either.
We finally got to the water, the wide eyed look on this dog was hilarious. I bet he has never seen waves like that before. We started out very slowly into the surf we might have been a bit paranoid about not wanting to loose "Brock" however he stuck to us like Seaweed! We played in the surf. We tried many, times to get him to stay on our surf boards but he didn't like the ride. What he did find out was that a "big black beautiful lab"can ride the waves himself, he was a natural and loved the body surfing.
"Brock" would swim out a bit then he relax, when he felt the "right" wave he stretched out his body and let the wave come up from behind him and carry him to the shore. A few times he did some trick's for "Sisters" few summersaults in the waves..(I wonder if they couldn't be by accident), anyway he made it look like fun. Finally we had to pulled him out of the water to take a rest, boy he thought we were real party poopers .
We were sitting on the beach taking "5"and nice gentleman approached us to ask if our dog had been doing this kind of thing for a long time as he thought the dog knew what he was doing. He introduced himself & asked if he might join us for awhile. He wished he had brought his dog's with him, but said he had left them at home because the resort he was staying in didn't allow dogs. Now we never thought about that because we always stay at the Accent Inn, because they are pet friendly. Well the man said his name was Steve. He joined us in the water for a few hours he was a lot of fun and loved "Brock".
I am sure"The surf Sisters"will do this again because it was a BLAST. I know my own dogs are coming next time they will love it! As for Steve, well when he left he shook hands with all of us thanked us again for a great afternoon. Asked our names then said thanks I am Steve , Steve Spielberg. Believe it, we were speechless! I don't think any of us got Steve's phone number to invite him to come along.
No where to stay with our furry friend so it is going to be a long ride home!
There is only one draw back riding in a car sharing the seat with a surfer dog. Dog body surfing as I see it, is salt water in certain orifices. "Brock" had gas for a few hours after we had finished and when he passed wind well, "it" was a little wet, so we sisters in the backseat made a diaper out of a beach towel. "Brock" was mortified, probably glad none of his friends could see him now!
story told by surfing sister "Peni Fitzpatrick"
Long beach is on the east coast of Vancouver island in British Columbia Canada. It is a very popular surfing area but dangerous as well as the ocean can be very unpredictable in that area. As islanders we know never to turn your back on the waves.
Woof…Peni Fitzpatrick