It's Ski Bus Season again
Relax and enjoy the scenic journey to and from Mount Washington Alpine Resort aboard one of Smith Transportation's dedicated ski buses. Enjoy the views of the  rugged peaks of Strathcona Provincial Park  and the Strait of Georgia. Mount Washington Alpine Resort boasts one of the most incredible and scenic alpine settings in North America; you've got to see it to believe it! Did you know that Mount Washington welcomed many athletes as they trained for the 2012 Vancouver BC Olympics. On several occasions  Mount Washington has boasted the highest base of any Ski resort in North America.
The folks at Smith Transportation provide return trips to the best skiing on Vancouver Island every day of the ski season, giving you a comfortable and safe alternative for getting on the slopes. No need to bother with chains or road conditions. Instead you can sit back and rest up in preparation for your active day ahead and enjoy the incredible views.
The Smith Transportation Ski Bus picks up in over 9 locations on Vancouver Island and 4 locations in Victoria BC, one of which is just a couple of blocks from the Accent Inn and just up the street from the Blue Ridge Inn.  They are the only ski bus shuttle on Vancouver Island that runs to Mount Washington on a daily basis.
They operate on a reservation system that guarantees you a seat on the bus. Simply reserve your seat online, by phone or by email before 9 pm the night prior to departure, and they'll guarantee you'll have a seat on the ski bus.
Smith Transportation's Ski Bus drivers have been driving these roads for over 30 years. They have extensive experience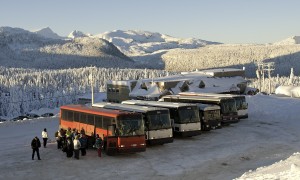 with driving on mountain roads in all conditions. The drivers are friendly, knowledgeable, and only too happy to help should you need it. Many of their drivers have a passion for skiing and snowboarding and are as excited to be going up the mountain as you are.
What's that you say, you don't ski??!!   No worries Mount Washington also offers awesome opportunities for snowshoeing and snow tubing (hang on to your toque for this one..)
Ski rentals for all ages are also available on the mountain.
Check out their website at www.smithtransportation.com to check out your pick-up locations and pick-up times, fare information and to reserve a seat online. Or feel free to call them any time at 1-877-756-2544 or email at [email protected].
Reservations are essential.