Shriners Odyssey Canadian Tour coming to BC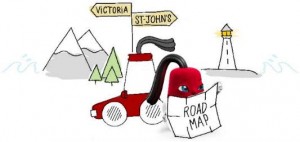 Originating at the Shriners Hospital for Children Canada, the Odyssey started in St Johns, Nfld back in May and will end in BC on July 18th.  The Fez-Mobile is on the road to raise awareness for the care and services Shriners provide.
The launch of the Exceptional Care Odyssey, a coast-to-coast voyage, marks the one year anniversary of the beginning of construction Canada's new Shriners Hospital in Montreal. One year after beginning construction, the new Shriners Hospitals for Children®-Canada, the building structure is complete and currently being enclosed, electrical, mechanical and plumbing work is advancing and all of this on budget.
The Hospital's Exceptional Care for Exceptional Kids Campaign is also progressing well, having reached $115,567,961. Many corporate partners have come onboard, one of which is MEGA Brands that has made a $500,000 pledge to the Campaign. National Co-Chairs Richard and Carolyn Renaud, Peter Letko and Deborah Josephson, M.D. announced the Exceptional Care for Exceptional Kids Capital Campaign has reached $115,567,961 towards its $130,000,000 goal. Leadership from MEGA Brands was present to make the announcement, sharing their commitment to Shriners Hospitals for Children – Canada, which will be recognized in the main play area of the new hospital. "MEGA Brands is thrilled to partner with Shriners Hospitals for Children in support of their remarkable efforts with kids in our communities. We are excited to introduce our limited edition Mega Bloks Shriners Block Buddy toy to help fundraise, and offer Shriners families a fun, colorful and creative building playroom in the new hospital," explained, MEGA Brands spokesperson Bisma Ansari.
To further support the Campaign and to raise awareness in all the communities served by the hospital and to celebrate the commitment of the Shriners Fraternity to their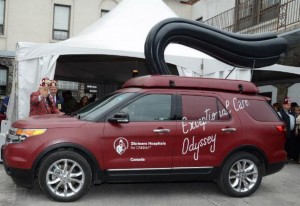 philanthropy, the hospital launched the Exceptional Care Odyssey, a 66-day cross-continent trip with 55 events planned in local communities in Canada and the north eastern United States."The Exceptional Care Odyssey is an opportunity to inform parents from coast-to-coast about the specialized orthopaedic care provided to infants, children and teens for such conditions as scoliosis, brittle bone disease, club feet, hip dysplasia, leg length discrepancies and cerebral palsy," reported hospital Board member James Templeton. The Odyssey will give us an opportunity to talk about the ties we have with local children's hospital with whom we partner to ensure patients receive the highest quality care available in their own community, and when needed at the Canada Shriners Hospital.
The Exceptional Care Odyssey, is made possible thanks to the support of the Shrine Fraternity, Cam Clark Ford, MEGA Brands and the Air Canada Foundation. Accent Inns has been a long time supporter of the BC Shriners and we encourage everyone to watch for the red Ford Explorer decorated like a Shriner's Fez, tassel and all, parked at Accent Inn locations across BC where the voyage culminates in Victoria in mid-July. Altogether the Odyssey will cover over 17-thousand kilometers, hundreds of Shriners, 55 cities and towns, more than 40 patient representatives and their families, 17 Shrine Temples, 8 parades, 2 countries and 1 red car dressed as a Fez.
To learn more about how you can support the wonderful work of the Shriners visit www.bcshriners.com
John Espley, Director of Marketing & Communications
(and proud Shriner)
Accent Inns