Are You Scared of Ogopogo or Cadborosauras?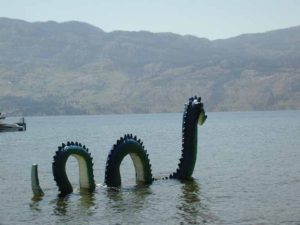 Every since I can remember I have been fascinated with the Loch Ness Monster, it always seemed to be in the news when I was growing up in Britain. Countless times a grainy black and white photo would be published in the newspaper, or shown on television that would convince me there just had to be something prowling that mass of water. Expeditions were launched and boats went out on the Loch with sonar devices to try and track the monster down. We all waited with baited breath.
When I first came to Canada almost a quarter century ago I was so pleased to discover that my adopted home had a few monsters of its own, especially Ogopogo. I remember shortly after we arrived, we headed off to Kelowna for a summer holiday (sadly before there was an Accent Inns in Kelowna). As soon as my two boys heard about Ogopogo they wanted to see if we could see this sea serpent up close. We rented a boat and cruised Lake Okanagan and there, somewhere close to Squally Point, we saw something! It wasn't much, just something big and dark in the water – it could have been anything a log, or a pair of otters, but it was enough for all of us to believe we'd caught a glimpse of Ogopogo! Who knows? Perhaps we did!
We lived in Victoria, so when we heard about Caddy the Cadborosauras we were off out again, this time in a blow-up dinghy searching Cadboro Bay for a glimpse of the multiple humped sea monster that lurked beneath the waves. We never did see anything strange but it never stopped us looking, every time we went there.
Next time you're staying at Accent Inns Kelowna head to high spot above the lake with a pair of binoculars and a camera with a telephoto lens and see if you can add to the many sightings of this elusive creature. In 1926, dozens of people
all claimed they saw the monster at the same time, and in 1968 a guy called Art Folden filmed something swimming across the lake causing a large wake. More recently in 2011 someone with a cell phone managed to film two dark shapes in the water. It would appear there's something out there – but what?
So, what is it that makes us so enthralled with tales of lake and sea monsters, and even Bigfoot or Sasquatch? I have a few theories:
We're all fascinated by the unknown, whether it's a desire to discover whether we are alone in the universe, or whether there are hidden creatures lurking beneath the waves, or in the forest. It's the bogeyman!
For many, it's the thought that maybe, just maybe, there are Jurassic period links to prehistoric times. Could the Loch Ness monster or Ogopogo really be a relative of the Plesiosaurus? And if so, wouldn't that be really cool?
Children, especially, like to be scared – just a little, and while being protected by their parents – the thought that there is a sea monster swimming below the surface is exciting and scary in a nice way.
It's brain chemistry – being scared gives us a natural high, that's why roller coasters and haunted houses are so popular. But, we can only really enjoy the experience if in the back of our mind we know we're safe.
For me, it's the thought of getting a glimpse at what's hidden from the eye. Lake Okanagan is huge and I've always thought, wouldn't it be incredible if one could somehow see everything beneath the surface? My imagination runs riot – I am sure there would be many surprises – many things scientists themselves would never dream of. And, perhaps, just perhaps, a prehistoric Plesiosaurus type creature still exists in its depths. Just thinking about it has my heart racing a little!
So, next time you're staying at either the Accent Inns hotel in Kelowna or Victoria ask the person at reception if they can tell you about their town's local monsters. Of course, all Accent Inns and Hotel Zed offer monster value – and that's something you don't need to be scared of!
Mike Wicks
Blue Beetle Creative