Fun Things to do this Christmas!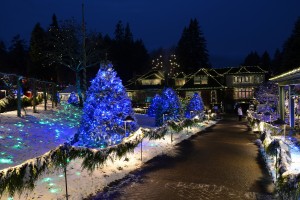 Victoria
Festival of Trees – Nov 19 – Jan 6. A lush forest of beautifully decorated trees to raise funds for BC Children's Hospital Foundation. Sponsors, local businesses, organizations and individuals of this event come together and decorate trees.
Gingerbread Showcase – Nov 22 – Jan 4. Feast your eyes and nose on creative inspirations constructed from gingerbread. More than just houses.
Centennial Square Ferris Wheel – Nov 29 – Dec 21 – Is back in Centennial Square for 4 weekends this holiday season!!
Christmas at Craigdarroch Castle – Dec 1 – 31 – The castle decked out in traditional Victorian Christmas, a must see.
The Magic of Christmas – Dec 1 – Jan 6 – the twelve days of Christmas twinkle and glow throughout The Gardens.
Vancouver
Festival of Trees – Nov 20 – Jan 4. beautifully decorated trees, all in support of BC Children's Hospital.
Join Santa on a magical flight to the North Pole! Enjoy a Christmas themed pre-show, pre-boarding experience, the ride FlyOver Canada.
Heritage Christmas at Burnaby Village Museum – Enjoy all the lights, boughs, red bows & all the other old-fashioned ornaments & decorations throughout the village & farmhouse.
A Twisted Christmas Carol – Through to Dec 27 – "You haven't really lived until you've seen Helen Keller as the Ghost of Christmas Past"
Get Snow Globed!  Take your picture inside our giant snow globe and help British Columbians living with mental illness.
Christmas at Lonsdale Quay Market   Through to Dec 24. Lonsdale Quay Market is gearing up for a busy and spirited Christmas, filled with exciting activities, live festive music.
Robson Square Ice Rink Open for Free Skating is opening on December 1, 2014 and will be open all through the Christmas Holidays, including Christmas Day and New Year's Day.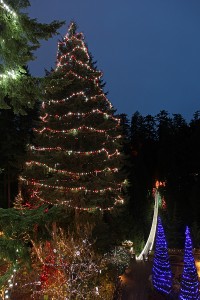 Canyon Lights at Capilano Suspension Bridge Park – See the world's tallest living Christmas tree!
Heritage Christmas – There are more shimmering lights to enjoy this year.
Vancouver Aquarium – Celebrate the holiday season with everyone's favourite holiday guest, Scuba Claus where he takes a daily dip with his aquatic friends in the Strait of Georgia exhibit.
Pacific Theatre presents Christmas Presence and it's a Wonderful Life.
VanDusen Gardens – Experience a winter wonderland with over 1 million lights. Take a stroll through themed areas and enjoy the Dancing Lights show.
Kelowna
Christmas Light-up – from December 10-Jan 3 with Hot Chocolate and Mulled Wine (proceeds to the Kelowna Food Bank)
A Christmas Carol – Dec 17-21. Ebenezer Scrooge on a fantastical journey through Christmas Past, Present, and Future. Dickens' classic masterpiece.
Kelowna Divers & MAB Construction are hosting a SCUBA Santa Splash on Sat 20 Dec to raise money for the SPCA.
The Elves and the Shoemaker – Dec 20-31. This wonderfully engaging piece tells the traditional tale of two kind elves who help a penniless shoemaker and his wife out of their troubles.
The Kelowna Liedertafel Choir is presenting their annual Christmas Concert on Sunday December 21st at 2:00 PM
First Lutheran Church 4091 Lakeshore Road.
The Celebration of Light is an alternative trans-denominational celebration of the holidays. Dec 22.
Christmas in the City. Ever wondered what Christmas is all about? Join us Christmas Eve 2014. Wednesday December 24th, 4:00pm and 5:30pm, we're creating an hour for you to pause, reflect, and be reminded of the Big Picture.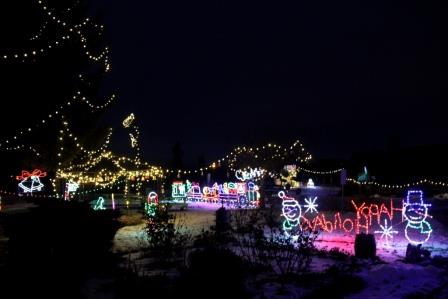 Kamloops
Celebrate the holiday season with the Wildlights Fesitval. That puts up amazing animal light displays every year and people can walk around the park or ride the miniature train to see them all.
Dralion Cirque Du Soleil (December 24-28) at the Interior Savings Centre.
Snow White – Panto Production (December 24-31) Magic Mirror on the wall, who is fairest of them all?
Winter Okanagan Wine Festival – Sun Peaks (January 17- to 25, 2015)
Night Skiing/ Night Tubing New Year's Eve @ Harper Mountain