Come Fish Patagonia
By Larry E. Stefanyk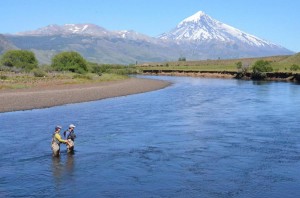 Here's a really neat fundraiser for the pacific salmon foundation
Ever since Haig Brown published his "Fisherman's Winter" in 1954, we all have heard of the phenomenal brown trout and rainbow trout of Argentina and may have dreamed about pursuing them in the challenging wind swept plains of Patagonia.  We now have the opportunity of a presentation right here by an Argentinean fishing guide with decades of experience in this pursuit.
Fernando Sosa has been guiding for 25 years in the Neuquén Province of Argentina and will treat us to a presentation of perhaps your dream trip!
Patagonia is a region located at the southern end of South America, shared by Argentina and Chile. The Argentine portion of Patagonia includes the provinces of  Neuquén, Río Negro, Chubut and Santa Cruz, as well as the eastern portion of Tierra del Fuego archipelago and the southernmost department of Buenos Aires province: Patagones.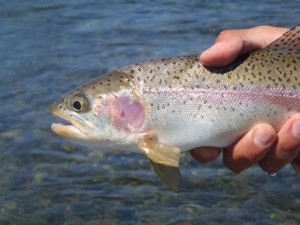 Feranando Sosa will talk  about the Patagonia experience in Neuquen Province, trout fishing is his maximun expression, in one of the last pristine places in the world.- it is a land of awe-inspringing fly water and scenery. Offering everything from turquoise rivers cutting through the rain forest to tea-stained chalk streams that hold rainbow and brown trout. Casting oversized dry flies that skitter across the surface, you see and feel an explosive brown or rainbow hammer your fly it is truely unparalleled fishing.
You can fly fish the best stretches of legendary Argentine rivers including the Malleo, Chimehuin, Quilquihue, Collon Cura, Quillen, Alumine, Queillen while you stay at a unique lodge – San Huberto, situated on the banks of the Malleo River.  The lodge offers first class service and accommodations, private access waters and a very limited number of guests, the waters have been protected for many years, every trout caught must be released, assuring superb fly fishing year after year. Every river in Neuquen Province is catch and release.
Fernando will give you another great option, fish with Andes Drifters, for rainbow and brown trout. Lodging choices range from deluxe streamside camps to accommodations in one of our four-star cabañas. The streamside camps are set up by their master camp director, this is one of the best way to experience Patagonia, the food is prepared with traditional Argentina methods using hot coals from a campfire and will rival anything served in a five-star restaurant.
You can also choose a town based stay in San Martin de los Andes with access to very productive and uncrowded public waters and excellent fly-fishing. These programs offer daily wading or floating trips, or you could add some extra outdoors life and adventure by camping and floating great rivers like the Alumine, Caleufu, Collon Cura and Chimehuin with one, two or three nights on the river bank with quality campsites. Check out the Accent Inn Vancouver Airport for great Stop-over rates before you "fly" out.
Presentations:
April 23-Campbell River
Campbell River Fish & Game Assoc.
2641 Campbell River Road
Club House
7:00pm
April 24-Courtenay
Courtenay & District Fish & Game Club
3780 Colake Road
Main Hall
7:00pm
April 25-Parksville/Qualicum Beach
Castaways Fly Fishing Club
747 Jones Street, Qualicum Beach
Lion's  Room
7:00pm
April 26-Victoria BC
Westcoast Fly Fishers
Village Food Market
6661 Sooke Road, Sooke
Conference  Room
7:00pm
Admission is by donation to the Pacific Salmon Foundation
Feranado Sosa has being living in Patagonia for the last 32-years.  He has been  a fishing and hunting guide for the  last 25-year. Fernado has also been  the president of the chamber of guides for the province of Neuquen for the last 7-years, he is deeply involved in preserving Patagonia  resources, specifically  wild life, water and the enviroment.
LARRY E. STEFANYK  Island Fisherman Magazine  Founder/Publisher
VI Trout Fishing Guide  Lake Listings
Sponsored by: