Family Support In BC Has A New Name

It's Official – Family Support in BC has a new name.
October 2, 2015: New Westminster, B.C. – The Family Support Institute Board of Directors, over the last several years, has been contemplating how FSI can be better represented as having a provincial scope. Their official name was the West Coast Family Support Institute Society which implied that they only served families living on the Westcoast of BC, when they actively serve people ALL ACROSS our province. At FSI's AGM on June 12, 2015, the membership unanimously voted to approve a special resolution to approve a society name change from the "West Coast Family Support Institute Society" to the "Family Support Institute of BC Society" (FSIBC). They feel this name change will help people to see that they are a provincial society in all aspects of their work.
FSI is celebrating their 30th anniversary of supporting families this year. The first 30 years have been so fruitful and filled with accomplishments including: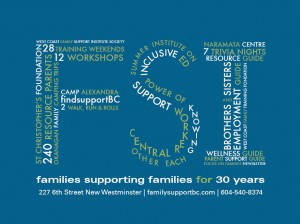 250 volunteers who support families
6000 families supported each year
14 workshops developed and presented by families
FREE publications for families with growing subscriptions
Our first Summer Institute on Inclusive Education for school personnel
Leaders in 7 communities hosting conversations about employment and job readiness
Invitations to most government tables to talk about the needs of families with families
  supportworkercentral.com – BC's first website for families looking to hire support workers
findsupportbc.com – BC's first database for families on all supports and services available in BC
In the spirit of celebration in their 30th year we have also changed their look with their logo to compliment their name change and to highlight the fact that all of their work is about "families supporting families".  If you would like copies of their new FSI brochure, please contact their office at 604-540-8374 / 1-800-441-5403 or email:  [email protected].
Contact:
Family Support Institute of BC Society
Angela Clancy
Executive Director
604-540-8374