Who Let The Dogs In?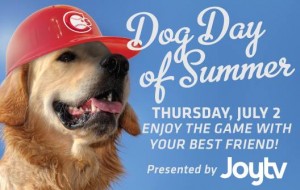 Calling All Dog Lovers.
Sit!
Stay!
Play Ball!
The C's Dog Day of Summer will host activities to keep your pooch active and entertained, all while giving fans the chance to enjoy Canadian baseball at it's finest.
FURRY FRIENDS TAKE OVER VANCOUVER'S MOST ICONIC SPORTS STADIUM
Dog Day of Summer is a tail waggin' good time at the Nat!
Vancouver, BC – Scotiabank Field at Nat Bailey Stadium is calling all canine companions down for a game of ball, and we're not talking about "fetch". Nights at the Nat are about to get livelier as the C's prepare to host Dog Day of Summer. On Thursday, July 2nd, all four-legged friends are invited to the ballpark for the most memorable game yet as the Canadians take on the Spokane Indians.
The energy on the diamond rivals the spectacle off the field as pooches of the Lower Mainland join their humans for a night celebrating sports, summer and strong companionships.  Presented by Bosley's by Pet Valu, the night will be jam-packed with activities for your pooch. A pre-game doggy parade, watering stations and juicy two-foot hot dogs will make your furry friend feel like the leader of his pack.
Tickets start at $14. To purchase some for you and your pooch, visit the website. If you have any questions regarding your dog, call 604-872-5232.
Who:               Vancouver Canadians Baseball Club
What:              Dog Day of Summer Bosley's by Pet Valu
Where:           Scotiabank Field at Nat Bailey Stadium (4601 Ontario Street, Vancouver, B.C.)
When:            Thursday, July 2nd, 2015   7:05 pm
-30-
About the Vancouver Canadians
The Vancouver Canadians Baseball Club is a proud affiliate of the Toronto Blue Jays organization and remain one of Canada's most recognizable sports brands.  Since 1978, the Canadians have played out of historic Scotiabank Field at Nat Bailey Stadium and are locally owned and operated by Jake Kerr and Jeff Mooney. Winners of the John H. Johnson President's Trophy for MiLB's most "complete" franchise, the Canadians are also three-time Northwest League Champions (2011-2013).
For more information:
Almira Bardai
Jive Communications
Tel: 604-561-7516
Email: [email protected]