Celebrate "Plan a Solo Vacation Day" with Accent Inns!
Contributed by: Sonu Purhar
March 6 is "Plan a Solo Vacation Day" – the perfect kick-in-the-butt to break outside your comfort zone and book a holiday where you can get to know yourself in a new destination.
Feeling nervous about venturing into an unfamiliar city alone? Accent Inns properties make it easy – and fun! – to spend a weekend or longer hanging out with yourself (i.e. the BEST company). Each hotel employs a welcome-to-the-family vibe and comfy, spacious rooms that you'll love returning to each night. And bonus: every city in which there's an Accent Inns is known for being safe, welcoming and filled with adventures suited for solo travellers. Here are some fun ideas for your next solo vacation!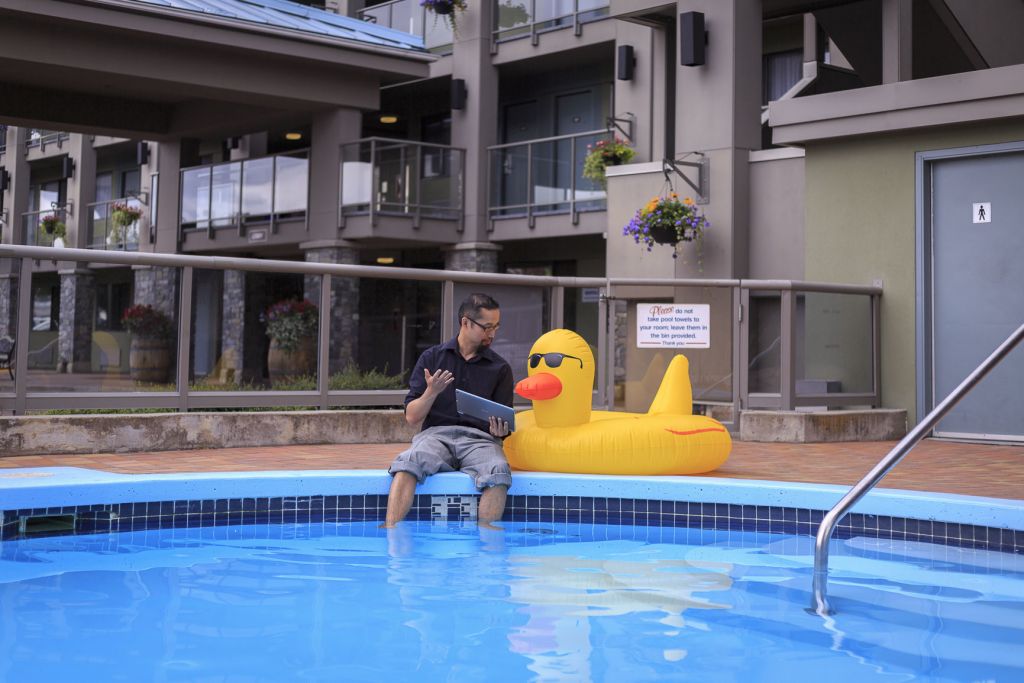 Easily reachable from Vancouver via two-hour ferry ride or 30-minute floatplane trip, this laidback island town is the perfect destination to explore at your own speed.
Single travellers can experience Victoria's coastal charm by joining an oceanside adventure like whale watching (which provides the perfect excuse to lean over to your neighbour and say, "Did you see that?"). Eagle Wing Tours offers day excursions that not only guarantee whale sightings, but also lead guests to native wildlife like sea otters and Pacific white-sided dolphins. If you've never seen a seat otter, you're going to fall in love! The company takes care of all logistics, including hotel pick-up, so all you need to do is sit back and marvel as you motor past lighthouses, tidal rapids and secluded coves in search of the area's playful nautical critters.
Those seeking more relaxation can indulge in Victoria's favourite historical pastimes: afternoon tea and leisurely garden strolls. We love experiencing both of these traditions at Abkhazi Tea House. The perks of single travel mean you can lounge in the teahouse as long as you like over steaming pots of tea, sweet scones and Devonshire cream, and mouthwatering savouries. Afterward, stroll the lush gardens – there's no better place to practice mindfulness than surrounded by such beauty and calm. And that's definitely harder to do when chatting with, or being hurried along by, fellow travellers!
Other suggestions for single travellers in Victoria: book a tour at Craigdarroch Castle (the beauty of making your own travel decisions means you can be as touristy as you like!); spend an entire afternoon browsing the compelling exhibits at Royal BC Museum; and strike up a conversation with the bartender at cool rooftop bar The Livet.
Attractive, affordable and welcoming, Kamloops is a haven for travelling in solitude. Accent Inns Kamloops is conveniently located off Highway 1, just shy of four hours' drive from Vancouver. Single travellers will appreciate the free in-room WiFi that allows for easy connection to loved ones back home (and to upload awesome selfies, of course).
Your Accent Inns hosts will have tons of suggestions for what to do and see during your time in Kamloops. A must-see is the B.C. Wildlife Park, home to regional wildlife like Arctic wolves, lynxes, owls, bear and more. For a thrilling up-close-and-personal experience, check the park's website listing of daily animal encounters and feedings before your trip. Solo travellers particularly keen on wildlife can book a guided tour led by a park interpreter and learn about the province's wildlife alongside fellow animal lovers.
Wine fan? Guided wine tours are the best way to meet like-minded vino fans while experiencing the best of the region's rich terroir. DiVine Tours will pick you up from the hotel and take you to three wineries for tastings and tutorials. Hint: tours are ideal for meeting enthusiasts who share your interests, so take this opportunity to get to know your fellow winos.
Kamloops is also a shopper's paradise, and Accent Inns is situated an easy walk from some of the city's best shopping experiences. At the open-air Summit Shopping Centre, you can browse big-name department stores and brands as well as gourmet food shops and kitschy retail outlets. Sahali Centre Mall is your go-to for trendy clothing, locally made goods and health shops. And a five-minute drive along the highway is Aberdeen Mall, the biggest shopping centre in the region with more than 85 stores. (With so many choices, you might need to buy a bigger suitcase!)
Wherever your solo travels take you, enjoy the trip and be sure to share your adventures using the hashtag #PlanASoloVacationDay. Happy travels!