BIG BIKE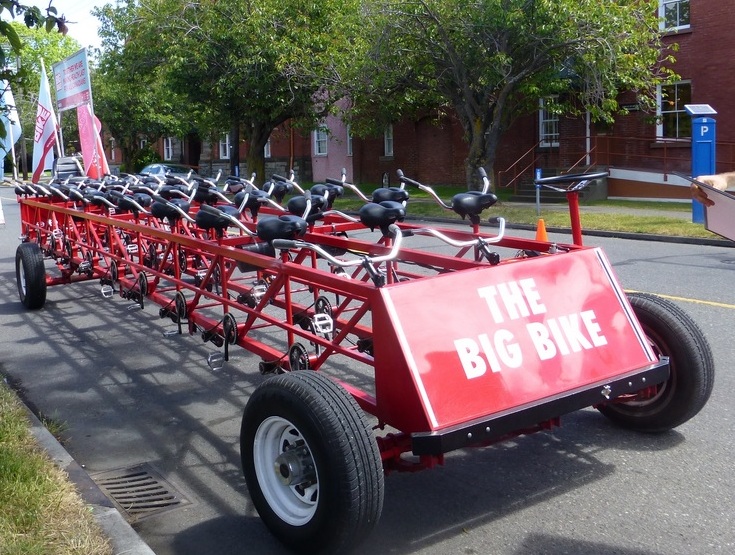 What does it take to get staff from competitive businesses in Victoria all pedaling in the same direction?  – A really big bike and a good cause!
That's what happened on June 18, when members of the Victoria Hotel Sales and Marketing Committee boarded the "Big Bike" and pedaled through downtown Victoria to raise over $3000.00 for the Heart and Stroke Foundation. 
I joined Joan Murrell, our Director of Sales, Accent Inns as we jumped on board to participate in this unusual form of exercise – but not before we demonstrated our skills in hoola hoop and jump rope in a pre-departure warm-up.
One of the hardest parts was getting up on this big rig but once in place, all 15 of us pedaled our way from the Legislature, though downtown and back to our starting point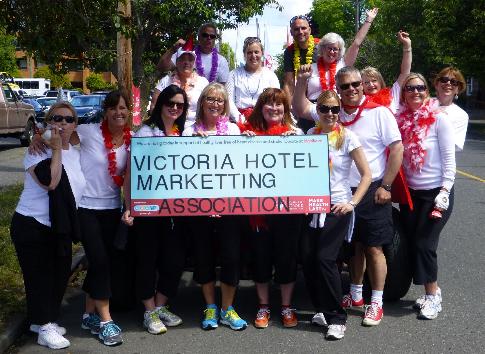 at Superior and Menzies.  Along the way, we rocked to some tunes, waved and made good use of the noisemakers supplied, much to the delight of locals and tourists alike.
In fact, we became instant celebrities as onlookers scrambled for cameras, smartphones and tablets to capture the sight of a big red bike, with 15 riders dressed in white shirts with red hearts on the back and red leis and feather boas around our necks.
Many of us had not realized that downtown Victoria has so many up-hills where some pretty major pedaling was required.  Luckily for every up-hill there is a down-hill where we coasted and enjoyed the support from onlookers who were cheering us on.
It was a great ride and a successful fund-raising event.  Now, it's time to start training for next year's ride!