BC is Truly Dog Friendly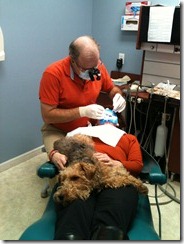 Dogs have become such an important part of our private lives – so much that many of us consider them a part of our families. They live with us. They play with us. They travel with us. And now, they even work with us.
I love going into businesses in Victoria that have an office dog. When I enter Marlin Travel on Oak Bay Avenue, Mickey gives me the best welcome I could imagine. I've been to a doctor's office where I was welcomed by an adorable Westie . However, one of my favourites is Paisley, the dog in my dentist's office.
There are many tools used by today's dentists to ease the anxiety of their patients. Most dental offices play soothing music, employ the use of lasers and even offer medications keep us calm. However Dr Patrick Finnigan employs the best option I have ever experienced – a 3 year old Welsh terrier named Paisley.
Paisley spends a good part of her day in Dr Finnigan's office chair, keeping it warm and waiting patiently for the arrival of couriers and postal employees. However, her greatest joy appears to be when a dog-friendly patient enters the premises.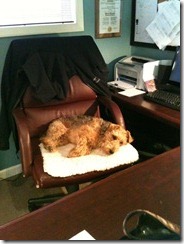 At my most recent appointment, Paisley met me at the door, checked for evidence of other dogs on my boots and clothing and then settled on my lap to assist with the filling of a tooth. When Dr Finnigan discussed the colour of the filling to be used with his assistant, Claire, Paisley gazed knowingly into my mouth and nodded her approval.
Although most of us find the sound of drills and other equipment, a little disconcerting, Paisley was totally unfazed – settling deeper into my lap to get more comfortable.
While I usually find my fists clenched and muscles tight, on this visit my hands rested gently on Paisley's back, tightening only to give her the occasional scratch. As I relaxed, so did Paisley and we spent the whole procedure resting comfortable in Dr Finnigan's dental chair.
As soon as I was finished, Paisley returned to her desk chair, covered in a sheepskin mat and continued her nap. Or perhaps she was just finishing up some paperwork!
We'd love to hear more about pet-friendly businesses in BC and we'd love to accommodate you and your pets when travelling throughout BC. All of our hotels are pet-friendly and more importantly, so is our staff.