December 7th will see the "cast and crew" of CHEK TV descend upon the Accent Inn in Victoria BC. Just like Santa's Elves' they will be working hard to to prepare and host the 19th annual CHEK Christmas Drive Thru.
You like grabbing a bite or a coffee at your local drive thru so why not make your donations that way too!
Where else will you find TV personalities and volunteers alike "hustling and bustling" around to unload your donations of goods for the Salvation Army. Sold everything in a garage sale?.. no worries cash donations are more than welcome, in fact a Salvation Army kettle will be on hand and it sure looks great to see it when it's filled with bills!
Making the experience even better you'll have the Salvation Army band serenading you with Christmas Carols, a few special gifts just for you from Save-On Foods and others and even a chance to win a great prize courtesy of Accent Inns and the Victoria Royals!  Rumor has it that this night is so special, Santa himself has scheduled an appearance! (why is it we never see Jim Beatty and Santa at the same time…..could it be..hmmmm?)
Please join us December 7th from 5 – 7pm at the Accent Inn at the corner of Blanshard and Cloverdale and help support those in need!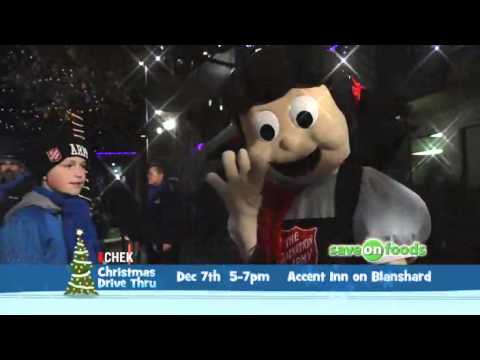 You have a chance to win a "Follow the Royals" prize.  A one night stay at your choice of the Accent Inn Burnaby, Kamloops or Kelowna along with an autographed Victoria Royals Jersey!